Former NFL Coach Thinks Jason Garrett 'Is Done' After Comments Made by Dallas Cowboys Owner Jerry Jones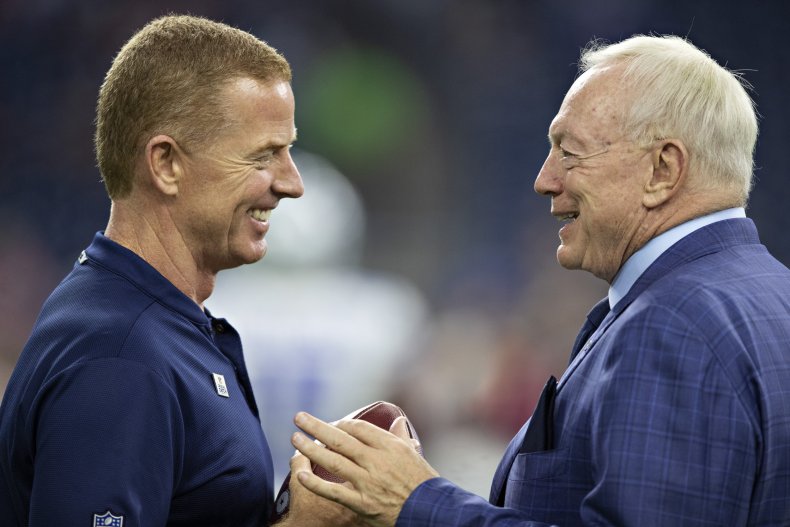 At least one ESPN analyst thinks Jason Garrett's days are numbered as the Dallas Cowboys head coach.
Appearing on Monday's edition of the sports network's Get Up, former NFL head coach and current ESPN analyst Rex Ryan said he thinks Garrett's time with the Cowboys "is done" after the team lost 13-9 to the New England Patriots on Sunday.
Ryan's comments come after Cowboys owner Jerry Jones expressed his frustration with the team after they were unable to score a touchdown against the Patriots. Jones' frustration was not only directed at his team's performance but also toward Garrett.
"It's a significant setback for our team," Jones said. "We needed this win. We needed to win against an opponent like this. We haven't had them, and consequently, we are very aware of that and so we dig a hole that we really got a challenge as we look at the rest of the schedule."
Despite the Cowboys' loss, they have a 6-5 record, good for in first place in the NFC East. Jones was asked during his post-game press conference if he has ever been this frustrated with a team in first place. Jones responded by saying "with the makeup of this team, I shouldn't be this frustrated."
Following the Cowboys loss and Jones' comments, many people, including Ryan, have assumed that this is the beginning of the end for Garrett as the team's head coach.
"The only way he can keep his job is if this team goes to a Super Bowl, in my opinion, and that's not gonna happen," Ryan said. "I've never heard an owner, in all my years, talk about his coach like this."
Former NFL punter Pat McAfee was also appearing as a guest on Get Up and doubled down on the idea that Garrett is nearing the end of his tenurein Dallas. "In a game that has a lot of rain and wind, you would think that the Cowboys would have success," McAfee said. "You have a monster running back, a good offensive line, you're able to move the ball on the ground, but instead it ends up with Jerry taking more shots at his coach."
This is not the first time this season that Jones has expressed his unhappiness towards Garrett this season. After the Cowboys Week 6 loss to the New York Jets, Jones was asked about his view on the coaching staff. "I'm going to be very trite," Jones said. "I was a lot happier with what he [Garrett] had done the first three games than what's happened the last three games."
Garrett is currently in the final year of his five-year $30 million-dollar contract, and no announcement has been made regarding a potential extension. Garrett and the Cowboys will look to redeem their Week 12 performance on Thanksgiving when they host the Buffalo Bills.