Former NFL MVP Says Ravens' Lamar Jackson 'Has to Be in Conversation' for Best Season by a Quarterback
As Baltimore Raven Lamar Jackson continues to dominate in the NFL, one league Hall of Famer thinks he is headed for the best season for any quarterback in history.
"If he gets to 35 to 40 touchdown passes and what he's done running the ball, Lamar has to be in the conversation of the best season by a quarterback," Kurt Warner, an analyst for NFL Network and a former NFL MVP, said per ESPN.
While Warner's comments are just his opinion, Jackson is on track with statistics that back it up.
Leading the Ravens to a 12-2 record this season, Jackson has dominated opponents as a dual-threat under center. He currently leads to league in touchdown passes and quarterback rating, with 33 and 81.3 respectively. Jackson has a passer rating of 112.8, which is third in the league.
His league-leading 33 touchdown passes may be lower than some of the numbers put up by great quarterbacks in the past, like the Chiefs' Patrick Mahomes who had 50 in 2018 and Peyton Manning who had 55 in 2013, but Jackson has been able to separate himself through his running abilities.
Jackson's rushing ability has helped him etch his name in the NFL record books in a number of different ways. He recently passed Michael Vick's single-season rushing record by a quarterback with 1,103 yards, while also moving into the top 50 in NFL history for career rushing yards by a quarterback.
Jackson currently has 2,889 passing yards, and run for 1,103 yards, and could become the only quarterback in NFL history to finish the regular season with 1,000 passing yards and a 100-passer rating, if he can sustain his play in his next two games.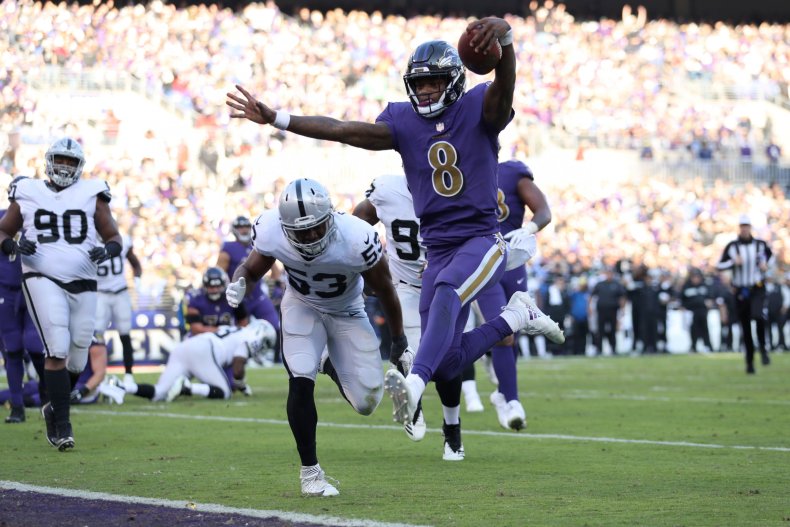 Jackson currently ranks eighth in rushing in the league and can add another record to his resume by being the only quarterback in NFL history to finish a season leading the league in touchdowns and in the Top 10 for rushing yards, according to Elias Sports Bureau.
Jackson is the youngest player in NFL history to have 5 touchdowns in multiple games, and in those games, he has rushed for at least 50 yards, making him the only player in NFL history to do so.
Jackson's array of skills, stats and NFL records have helped him become the league MVP favorite and has garnered the most Pro-Bowl votes among any other player. He received 704,699 votes, over 100,00 more than any other player.
Despite his records and Pro-Bowl voting numbers, Warner thinks that fans still don't fully appreciate Jackson's performance this season.
"With a lot of things Lamar does, it is hard to gauge right now because it's so new and unique. Maybe 10 to 15 years down the road we'll have a better feel where it stands," Warner said.
Jackson and the Ravens will look for their eleventh straight win in their December 22 game against the Cleveland Browns.