Former NFL Player Accuses Colin Kaepernick Of 'Extorting the Black Community' During Appearance On Fox News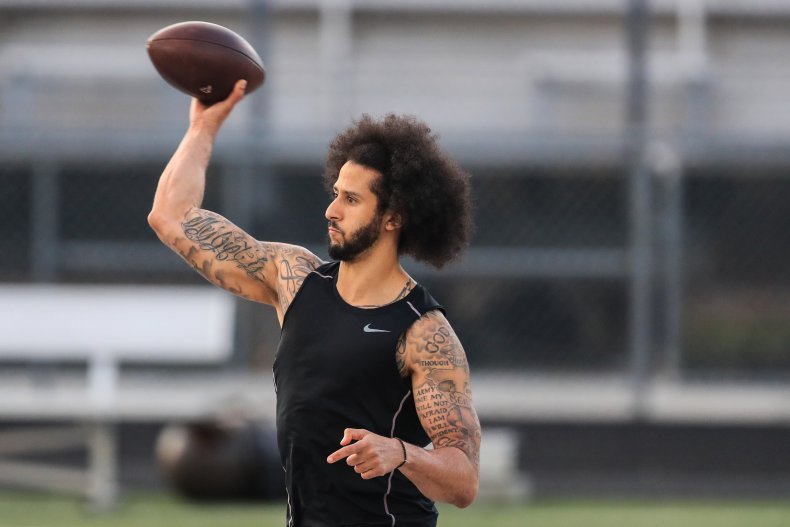 While appearing on Fox & Friends on Monday morning, current congressional candidate Jeremy Staat stated that former NFL quarterback Colin Kaepernick is "essentially extorting the black community."
"I think it's an absolute disgrace," Staat said. "We have a professional athlete who has pulled the race card, he's pulled the victim card. He knew what he was getting into when he decided to kneel and now, he's going to go ahead and capitalize on this by essentially extorting the black community."
Staat, a former NFL player and Marine veteran, appeared on the Fox News show to talk about a recent fundraising letter he wrote for his congressional campaign. In his letter, he expresses his distaste towards Kaepernick and his decision to kneel for the national anthem in an effort to protest police brutality against black Americans.
"Colin Kaepernick is a national disgrace and I'm tired of seeing him celebrated like he's a hero," Staat wrote in his fundraising letter. "Help me send a strong message to left-wing radicals in Washington that America is fed-up with their game plan, like they are fed up with Colin Kaepernick."
On his website, Staat continued his criticism of Kaepernick, writing, "Unlike Colin Kaepernick, this NFL pro ALWAYS stood for the Red, White and Blue, with toes on the line."
Staat is running to replace current California Rep. Paul Cook, who announced in September that he would not seek re-election. A Republican like Cook, Staat is up against Democrats Chris Bubser and James Ellars in California's 8th congressional district.
In his fundraising letter, Staat also referenced Nike and how Kaepernick is using the brand to help advance his motives. Staat called the athletic apparel company Kaepernick's "little shining horse to ride in on to basically exploit and capitalize on his poor choice of trying to disgrace our men and women in uniform."
Staat's reference to Nike is regarding the brand's loyalty to Kaepernick despite his absence from the NFL. In 2018, Nike used Kaepernick as a face for an ad campaign, and according to Yahoo Sports, Nike's stock has risen 18 percent since the ad. The company also has plans to release a shoe designed by Kaepernick later this month.
Kaepernick has been out of the NFL for the past three years but has been in the news recently after the league announced they would hold a workout for him on November 12. Despite working out in front of six teams, Kaepernick remains unsigned to an NFL team.
Two NFL players have continued to kneel during the anthem since the protests began, Carolina Panthers' Eric Reid and Houston Texans' Kenny Stills.
Staat joined the military in 2006 after the conclusion of his NFL career with the Pittsburgh Steelers. Staat, who attended the University of Southern California on a football scholarship, had intended to join the military following the September 11, 2001 terrorist attacks, but was encouraged by his college teammate Pat Tillman to remain in the league until he could receive retirement benefits. Tillman, however, left the Arizona Cardinals in 2001 and enlisted in the U.S. Army. He was killed in Afghanistan in 2004.
When announcing his candidacy in September, Staat said in a statement that "President Trump is under fire on a daily basis. The President alone can't change Washington; he needs back up. Send in the Marine, Staat. I promise to always put American citizens first, prioritize national security and protect our freedom and workers."
While appearing on Fox & Friends, Staat added that he's also hoping to improve the treatment of veterans, who he said are "treated like second-class citizens" if elected to Congress.