Former NFL Player Glenn Foster Dies in Police Custody Day After Assault Arrest
Glenn Foster Jr., a former NFL player for the New Orleans Saints, died in Alabama on Monday after being taken into custody by authorities over the weekend.
Foster, 31, was in jail in Pickens County, Alabama, the day before his death. As of press time, there is no indication if he had been released from the jail before he died.
The CBS-affiliated station WWL-TV and NOLA.com—the website for The New Orleans Advocate/Times-Picayune—reported that an official at the Pickens County, Alabama, Medical Examiner and Coroner's Office confirmed Foster's death. The outlets reported that since the case remains under investigation, the official could not comment on the cause of death or the location where Foster died.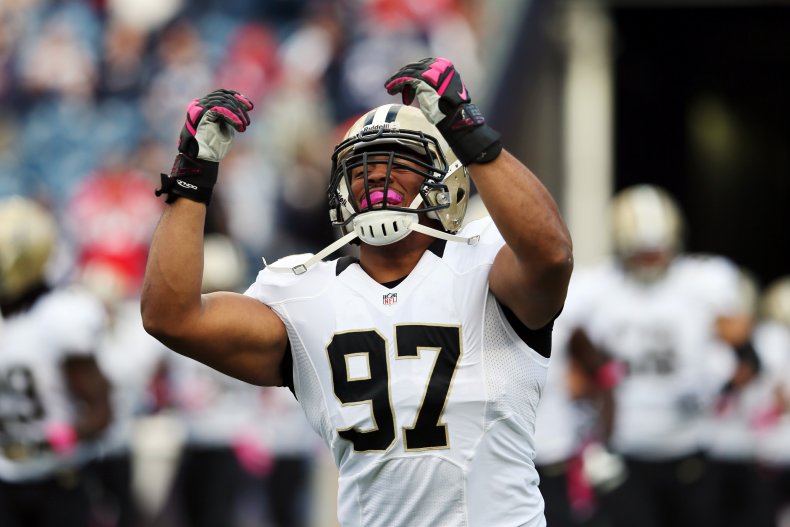 NOLA.com wrote that Pickens County jail records show Foster was initially booked on Saturday morning on counts of reckless endangerment, resisting arrest and attempting to elude police. The outlet reported he was rebooked Sunday on counts of simple assault and robbery.
Newsweek contacted the Alabama State Bureau of Investigation for more information but did not hear back in time for publication.
Foster was born and raised in Chicago and attended the University of Illinois. In April 2013, he signed with the New Orleans Saints as an undrafted free agent playing defensive end.
NOLA.com reported that Foster led the Saints in quarterback sacks with four and QB hits with five while adding a forced fumble during his first preseason with the team. His efforts led to him being awarded a spot for the regular season.
The Saints went on to win 12 of their 18 games during Foster's rookie season, which included the team's first-ever playoff win at an opponent's stadium.
However, after a promising first year with the Saints, Foster was injured during the 2014 season and only played in five games.
Foster was waived by the Saints in August of 2015 and retired from the NFL in 2016. Shortly after retiring, he told The New Orleans Advocate he planned on dedicating himself to a career in real estate development.
More recently, Foster spoke about real estate and general contracting in an October interview with inRegister magazine. He also said he had invested in the New Orleans business Mr. Wolf Espresso & Books.
"I can do a million things off the field to make the same amount of money or more with my own business," Foster told the magazine.
Kam Buckner, a member of the Illinois House of Representatives, eulogized Foster on Tuesday.
"No words right now. Rest Powerfully, Little Brother," Buckner, who represents the Illinois State House's 26th District, wrote on Twitter. "You left your mark everywhere you went. Glenn Foster, we love you bruh."
NOLA.com reported that Foster's widow and parents are preparing to release a statement about his death.