Former NFL Player, GOP Congressional Candidate Demands NBA, NFL Players 'Stand Up, Man Up' for National Anthem
A Utah Republican congressional candidate and former NFL player said Americans should "stand up, man up" for the National Anthem as he criticized professional athletes for supporting a "radical left" political agenda.
Burgess Owens, who was a member of the 1981 Super Bowl champion Oakland Raiders team, responded to a recent ESPN host's poll which appeared to make light of a season-ending injury for Orlando Magic forward Jonathan Isaac. Isaac drew attention August 1 when he stood during The Star-Spangled Banner ahead of the team's game against the Brooklyn Nets. The 22-year-old was the only player on both teams to stand for the national anthem, and the only member not to wear a Black Lives Matter t-shirt as part of a warm-up uniform.
Owens, who in June won the GOP primary for Utah's 4th Congressional District, told Fox News Saturday that Isaac should be applauded for standing up against "leftist" bullies.
Owens praised President Donald Trump and warned his critics, "if evil hates our president this much, maybe those who have concerns should reconsider [voting for Trump]."
"Jonathan Isaac should be rewarded by Americans because we love courage and at the same time we're seeing what true meanness is," Owens said Saturday. "Understand, that what we're seeing with the radical left is true evil ... What we're finding out now is how mean and how angry and how divisive the left is."
"We need to stand up and man up for our nation and if we do that the bullies will go away because they don't know how to do well against those who are courageous and fight back."
Isaac was injured in the fourth quarter of last Sunday's game against the Sacramento Kings, likely ending his season and prompting a successful surgery on his torn ACL Friday. Dan Le Batard, the host of the Dan Le Batard Show with Stugotz conducted a poll - which he later apologized for - that jabbed at the seeming irony of Isaac's injury.
"#poll Is it funny that the guy who refused to kneel immediately blew out his knee?" he tweeted, drawing only a slight majority of more than 9,000 voters who said "no." Speaking with Fox News on Saturday, Owens criticized Le Batard and accused him of being just another member of the "radical left" who "hates American values."
"This is the way the leftists work, they're bullies, and once they're caught they all do what they do - run and hide," Owens continued. "We talk about the radical but it's not just those who are demonstrating, destroying and trying to hurt our cops, or kill cops, it's actually those who hide behind the scenes. It is those hiding in corporate environments, those hiding in colleges. These are people that hat our nation, they hate Americans they hate our values."
"As Americans begin to turn off the TV, I'm one of those guys who will not be looking at professional sports until they fire some of these commissioners because at the end of the day they're undermining our culture, they're attacking our kids and they're attacking our American ways. I think we'll find more of that happening as we go forward," Owens added.
When asked if he believes Isaac stood during the national anthem for political reasons, Owens replied, "He's doing it because he's a faithful Christian, he's doing what Christians do, again there's no guarantee he wouldn't get hurt or he wouldn't have some repercussions but he has faith in his Lord and Savior and he's going to do the right thing, he's doing to stand for his country, and that's what Americans need to do across the country, guys."
Speaking to reporters following the game against the Nets, Isaac said he chose to stand because "kneeling or wearing a Black Lives Matter t-shirt didn't go hand in hand with supporting Black lives."
"I believe that my life has been supported through the Gospel, everyone is made in the image of God," he said.
The official Twitter account for the Dan Le Batard Show with Stugotz issued an apology August 3 for the poll highlighting Isaac's injury. "Regardless of the context, we missed the mark. We took the tweet down when we realized our mistake and how we posed the question to the audience."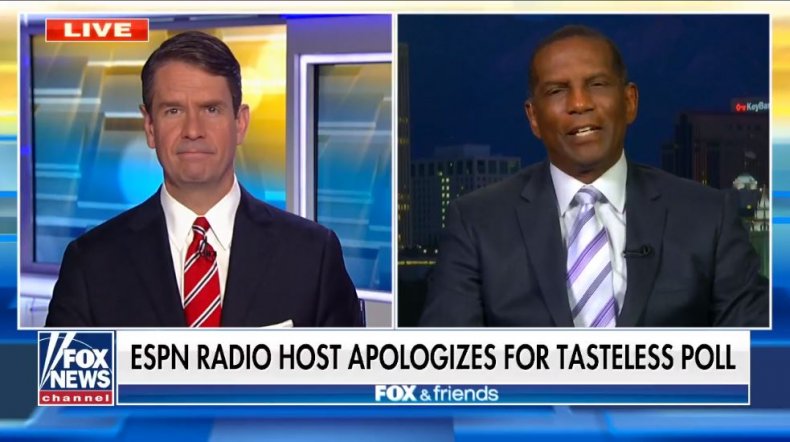 Owens urged Americans who are weary of Trump's presidency to reconsider voting for him in November because of the sheer number of NBA and NFL players who have stood during the national anthem in protest against police brutality. Trump has repeatedly demanded the leagues end the practice and punish the players.
"Because if evil hates [Trump], it means he must be doing something good," Owens concluded. He will face Democratic incumbent Ben McAdams in the November 3 election for Utah's 4th Congressional District.
Newsweek reached out to the NBA and Owens for additional remarks Saturday morning but they did not reply before publication.