Ex-NFL Player's Hail Mary: Holding Cardboard Sign for Free Agent Gig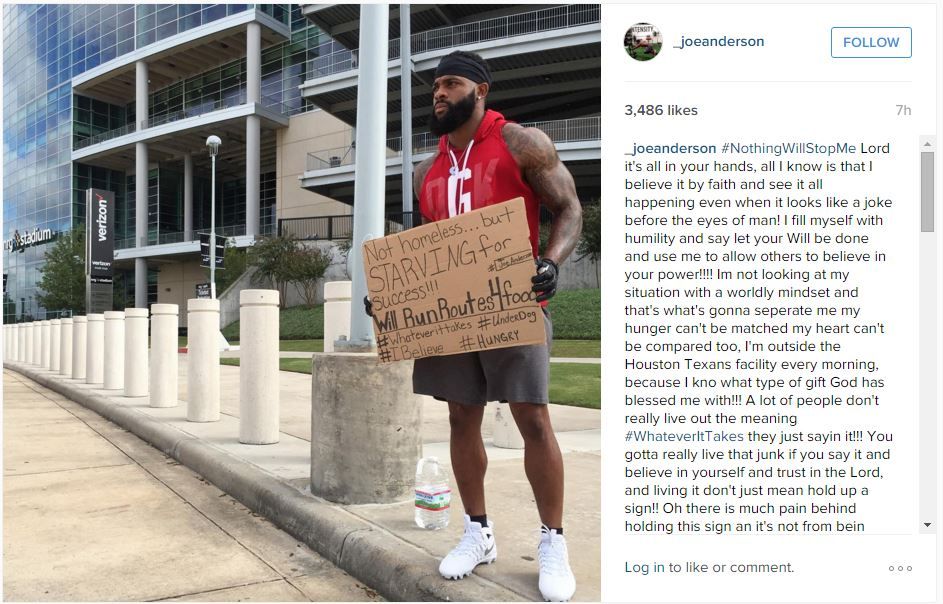 Joe Anderson, a 26-year-old former NFL wide receiver, is tackling his campaign to be signed by the Houston Texans with a most hands-on approach: He's stationed himself outside the team's stadium with a cardboard sign.
"Not homeless but starving for success. Will run routes [for] food. #WhateverItTakes #UnderDog #IBelieve #Hungry," he wrote on the sign, according to a photograph he posted on Instagram.
Anderson has been a member of the Chicago Bears and Philadelphia Eagles. He only played in nine games for the Bears, and due to an injury didn't see the field at all during his time with the Eagles.
He's currently a free agent and could, theoretically, catch on with the Texans. According to his Instagram post, Anderson plans to be outside the stadium every day until he gets a shot at playing with the team.
He also wrote: "Forget a publicity stunt Boyz [sic] is Really HUNGRY out hur dawg to the point if the coach wanna line up I'll route him up too, to the point if it's special teams an the REF get in the way I'll hit him too!!"
Based on other photographs he's posted to the social media app, Anderson trains regularly. Fans are advocating for the wide receiver, with the post having garnered more than 1,000 comments, many tagging the Texans to grant attention to his efforts.