Former NFL Player Ryan Russell Comes Out as Bisexual in Personal Essay
NFL veteran Ryan Russell, who last played in the league for the Buccaneers in 2017 and is looking to make a comeback, revealed in an essay published on Thursday that he is bisexual.
The former Dallas Cowboys player addressed the stigma of being an LGBTQ person in the NFL but said that he believed withholding information was deceitful and not the way he wanted to work or live. His attempts this summer to make his way back into the NFL prompted him to reflect on how he'd been portrayed in the professional sports world up until that point, and decided it was time to change that image for the sake of future generations.
"In early August, I met with an NFL team that was interested in signing me as a free agent for the upcoming season," penned Russell.
"I feel the organization believes I have the skills and character to contribute to their success. What they know about me, they like — but there was one very important detail about my life they weren't familiar with."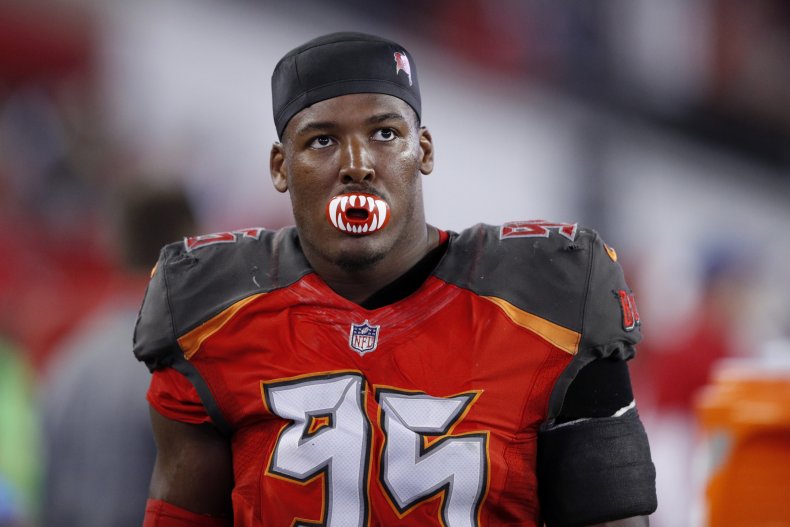 Russell, 27, went on to describe an interview he had with the NFL, saying that he felt "positive about how I presented myself that day: a hardworking, coachable, accountable and trustworthy player whose priorities are in the right place."
He went on to detail a promise he made to himself—that this would be "the last time I will ever interview for a job as anything other than my full self."
"Have I lied to teammates, coaches, trainers, front-office executives and fans about who I am? Not exactly. But withholding information is a form of deceit. And I want the next part of my career — and life — steeped in trust and honesty," said Russell. "My truth is that I'm a talented football player, a damn good writer, a loving son, an overbearing brother, a caring friend, a loyal lover and a bisexual man."
Around the same time as the essay's release, Russell posted a black-and-white photo with boyfriend and professional dancer Corey O'Brien.
O'Brien posted the same photo, at the same time, in color.
In his essay, Russell said that his main objectives are to get back into the NFL while living his life openly. While he did erroneously note that "there isn't a single openly LGBTQ player in the NFL, NBA, Major League Baseball or the NHL," a point about the stigmatization of sexually diverse people may have merit.
In 2017, former NFL player Ryan O'Callaghan came out as gay, and he recently told the Thomson Reuters Foundation that he hears from current professional football players who are in the closet, all of the time.
In his essay, Russell agreed. "Even though openly LGBTQ people are thriving in every area of public life — politics, entertainment, the top corporations in America — they are so invisible in pro sports that a gossip blogger is doing a favor for a bisexual football player by not disclosing that he happens to date men," he wrote.
While the league did launched NFL Pride in 2017, an affinity group meant to support LGBTQ employees and create a more inclusive environment, there hasn't been a wave of players opening up about their sexuality.
"It's going to take a high profile player who's playing currently, coming out, to really make a difference," O'Callaghan said.
O'Callaghan, who who played for the New England Patriots and the Kansas City Chiefs from 2006 to 2011, has worked with the NFL and partner charities and launched a foundation to provide athletic scholarships and mentorship to young LGBTQ athletes.