Former NFL Player Says Vikings' Kirk Cousins Would Be League MVP if You Removed Lamar Jackson From Discussion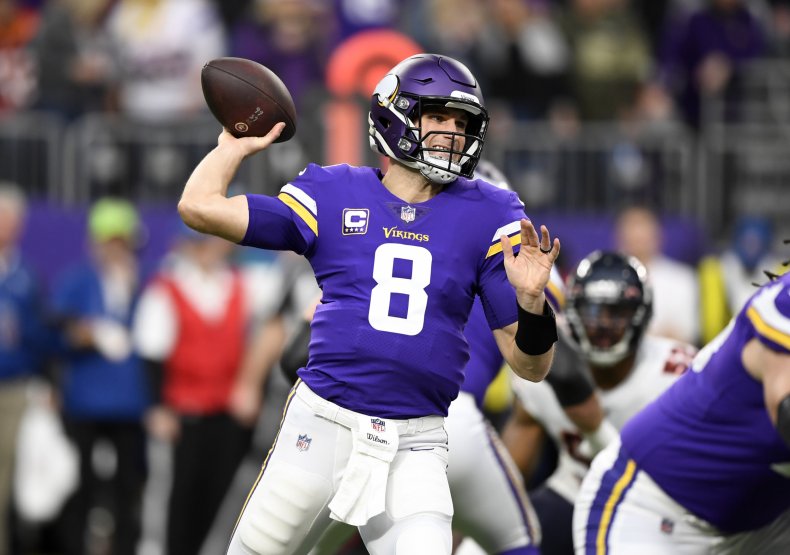 On Tuesday, former NFL wide receiver Brandon Marshall was discussing the NFL MVP award and stated that if Baltimore Ravens' quarterback Lamar Jackson was removed from the conversation, Kirk Cousins of the Minnesota Vikings would be the MVP.
"If you take out the historic season that Lamar Jackson is having, and removed him, Kirk Cousins is the MVP," Marshall said while appearing on Fox Sports' First Things First.
Marshall described the historic season that Jackson is having as "disruptive" adding that "he's [Jackson] is not doing something the league has never seen before, but he's just doing it at an extremely higher level."
Following the Vikings' loss Monday to the Seattle Seahawks, Cousins now has a record of 0-8 in games started during Monday Night Football, which is the worst record in NFL history.
Marshall was not disputing the idea that Jackson should be the MVP but instead was supporting Cousins after he has received large amounts of criticism following his most recent loss.
Marshall went even further on his opinion regarding the MVP and included Seattle Seahawks quarterback Russell Wilson. "From a pure numbers standpoint, you have Kirk and Russell Wilson," Marshall added.
Wilson has been battling with Jackson as the favorite to win the MVP award, but Jackson has begun to pull away in recent weeks.
First Things First host Nick Wright also backed Marshall's point by detailing Cousins passer rating stats throughout the Vikings' 12 games this season. "In eight of those games, Kirk Cousins has had a passer rating north of 110," Wright said. "That is an outstanding game."
On the other hand, the MVP favorite Jackson only has four out of 12 games with a passer rating above 110, but has been able to make up for this by running the ball. Jackson currently has 977 rushing yards throughout the season, while Cousins has 50 rushing yards.
Overall, Cousins has had a strong season, but with four losses he falls far behind a number of other choices.
According to Fanduel and DraftKings sportsbooks, Cousins would remain outside of the Top Four MVP choices even if Jackson wasn't in the running. Both sportsbooks have a number of players listed above Cousins including Russell Wilson, the Texans' Deshaun Watson, Kansas City Chiefs' Patrick Mahomes and Green Bay Packers' Aaron Rodgers.
Cousins and the Vikings currently have an 8-4 record, placing them one game behind the Packers in the NFC North.