Former NFL Quarterback Says Tua Tagovailoa is 'Head and Shoulders' Better Than Heisman Favorite Joe Burrow
While appearing on Fox Sports' The Herd with Colin Cowherd former NFL quarterback and NFL insider, Trent Dilfer talked about Alabama quarterback Tua Tagovailoa and how he compares to his fellow college quarterbacks.
Host Colin Cowherd asked Dilfer if he had to pick one quarterback between Tagovailoa and LSU's Joe Burrow, who would he choose.
"I don't even think it's a conversation. I think Tua is the single best prospect I have ever studied in my years of doing it," Dilfer said.
Dilfer said Tagovailoa is "so uniquely gifted in so many ways" which makes the Alabama QB "head and shoulders" better than Burrow and Oregon quarterback Justin Herbert. Herbert began the season as the projected No. 1 overall pick in the 2020 NFL Draft.
Burrow, who led the LSU Tigers to defeat Tagovalioa's Crimson Tide on Saturday, is currently the odds-on favorite to win the Heisman Trophy.
A recent mock draft published by Sports Illustrated shows Burrow as the number one pick, Tagovailoa as the fourth pick, and Herbert at number eight and Dilfer told Cowherd that he feels both Burrow and Herbert will be first-round draft picks.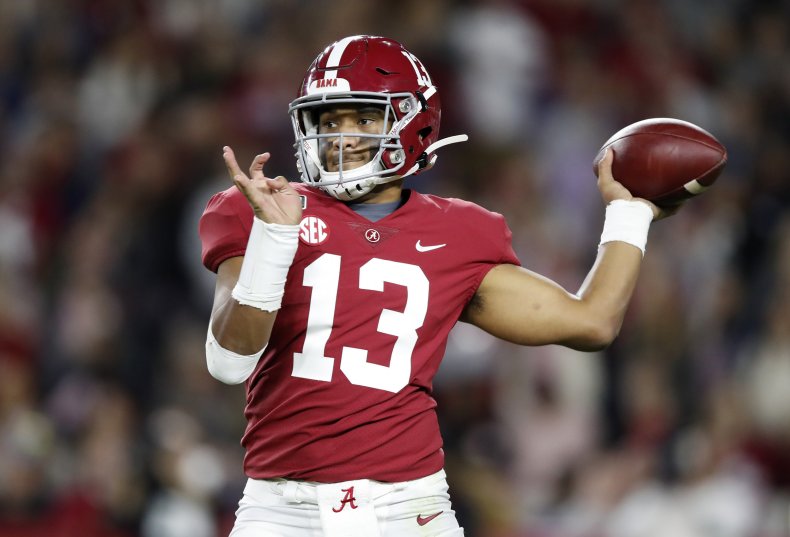 But Dilfer didn't hold back on his praise for Tagovailoa.
"I think Tua is the single-best prospect I have ever studied in all my years of doing it," Dilfer said, later adding that the Crimson Tide quarterback "has the chance to be a generational type talent in the NFL and go down as one of the better quarterbacks that's ever played in the NFL."
Tagovailoa has been stellar throughout the 2019 season throwing for 2,584 total yards, 31 touchdowns and 3 interceptions while leading the Crimson Tide to an 8-1 record.
While leading the Tigers to an undefeated 9-0 record Burrow has also racked in 33 touchdowns, 3,198 total passing yards and 4 interceptions.
Age may also be playing a part in Dilfer's opinion on the two quarterbacks. Tagovailoa is a 21-year-old junior while Burrow is 22 years old and a senior. In the NFL, finding that franchise quarterback and keeping him on your team as long as possible is an integral part to a team's success, so a one-year age difference could play a big role in a team's draft decision.
Tagovailoa will look to continue his season and make his case as the No. 1 overall pick when he leads the Crimson Tide to Mississippi State on November 16, while Burrow will try to keep the Tigers undefeated in their upcoming game against Ole Miss. Herbert and the Oregon Ducks will host Arizona.