Former Nigerian Minister Abba Moro Arrested Over Deadly Recruitment Drive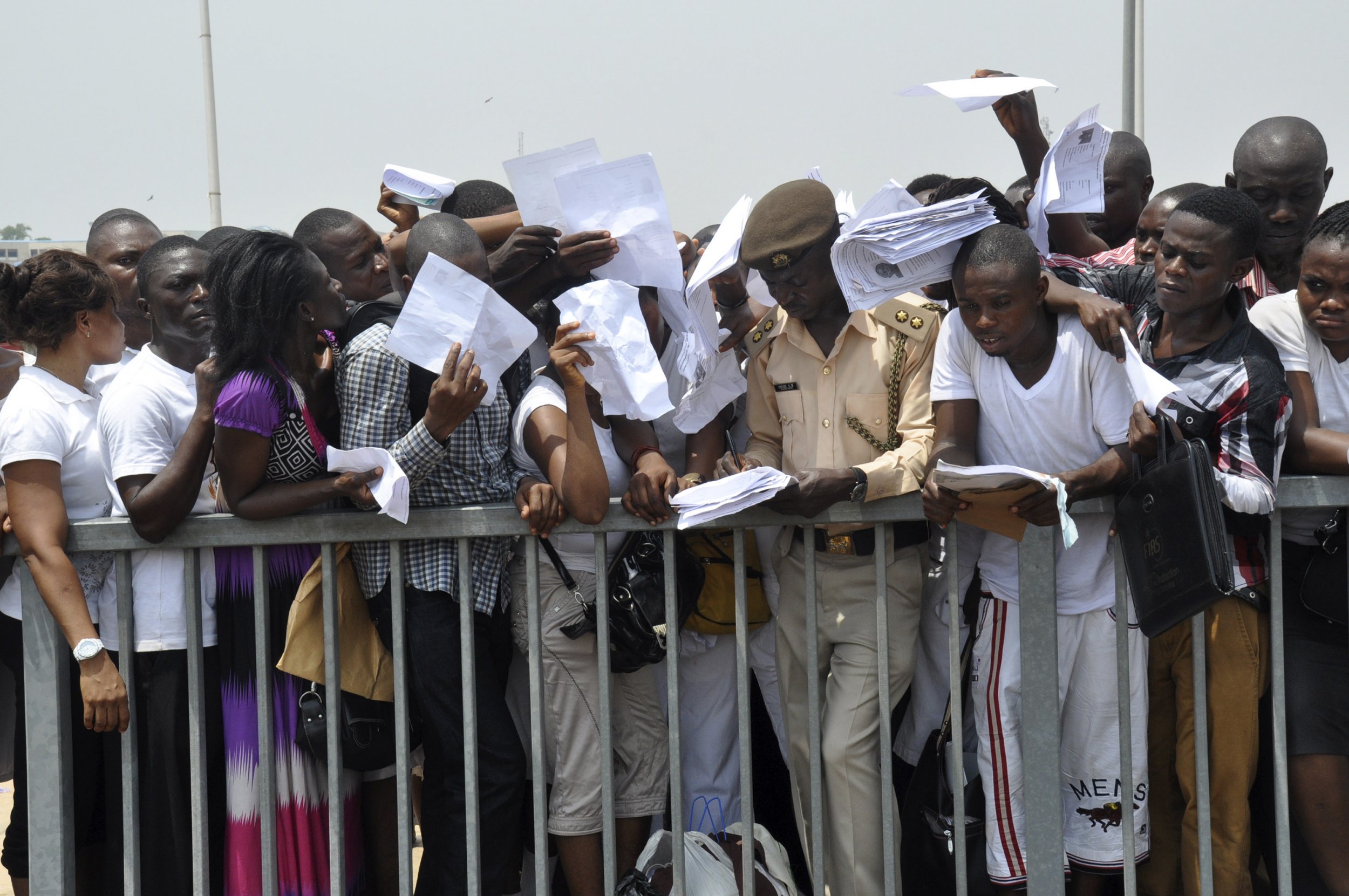 Nigeria's anti-graft agency has arrested a former interior minister in connection with a failed recruitment process that resulted in the death of around 20 jobseekers in 2014.
Patrick Abba Moro, who served as minister of the interior under former President Goodluck Jonathan, was arrested by the Economic and Financial Crimes Commission (EFCC) along with two others on Monday evening, Nigeria's Premium Times reported. An EFCC official confirmed Moro's arrest to Newsweek via telephone.
Moro is being questioned in relation to a recruitment process for the Nigerian Immigration Service (NIS) that took place during his tenure. Hundreds of thousands of applicants attended recruitment drives for the NIS across the country on March 15, 2014. At the Abuja National Stadium in Nigeria's capital, tens of thousands of jobseekers trying to get into the stadium to take recruitment tests caused a stampede that resulted in the deaths of at least seven people, the BBC reported. Other deaths were also reported in various parts of the country.
The process also involved applicants paying a compulsory levy to the interior ministry, which allegedly raised at least 520 million naira ($2.6 million), according to Premium Times.
At the time, the tragedy led to calls for Moro to step down but he opted to stay in office. In October 2015, the EFCC questioned him about the recruitment process. Moro had originally denied responsibility for the tragedy, blaming the impatience of applicants, before later accepting responsibility.
President Muhammadu Buhari has launched a major crackdown on corruption in Nigeria, a country that loses billions of dollars in public funds to graft. The president has already ordered the arrest of high-profile figures from the previous administration—including former national security advisor Sambo Dasuki—in connection with a scandal that saw more than $2 billion of government funds earmarked for buying arms to fight Boko Haram go missing. Former defense minister Bello Haliru Mohammed has been charged with money laundering in connection with the same scandal. Both Dasuki and Mohammed deny the charges against them. The EFCC has recovered more than $2 trillion of stolen public funds since 2004, Nigeria's justice minister said recently.
But despite the crackdown, Nigerians are still wary of corruption in their government. A December 2015 report by anti-corruption watchdog Transparency International found that 75 percent of Nigerians believed that graft in the government had increased over the previous 12 months.