Former Nixon White House Counsel Says Dershowitz 'Unimpeached Richard Nixon' With His Trump Defense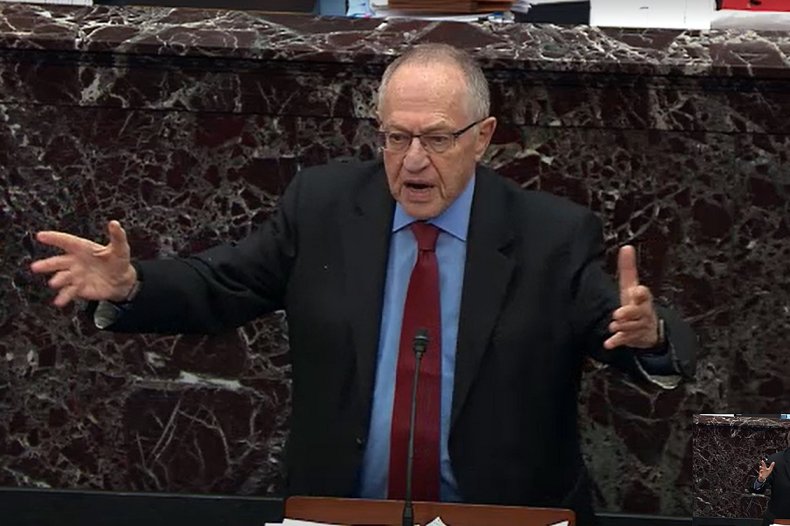 John Dean, a member of former President Richard Nixon's White House counsel said on Wednesday that President Donald Trump's lawyer Alan Dershowitz "unimpeached Richard Nixon" with his most recent arguments defending Trump.
"Alan Dershowitz unimpeached Richard Nixon today," Dean wrote on his Twitter account. "All Nixon was doing was obstructing justice and abusing power because he thought he was the best person for the USA to be POTUS. When POTUS does it…etc. Seriously, that was his motive! Agree with Alan and impeachment is gone."
Dean's tweet comes just after Dershowitz's arguments on Wednesday in the Senate's impeachment trial for Trump. Over the course of the trial, Dershowitz and others on the president's legal team have argued that the charges against Trump, abuse of power and obstruction of Congress, are not crimes that constitute his removal from office.
On Wednesday, Dershowitz moved further with his arguments, stating that presidents cannot be impeached for legal actions they believe are in the public interest, suggesting that Trump speaking to Ukrainian officials and asking for an investigation into former Vice President Joe Biden and his son Hunter, was done because the president believes it is in the public interest that he be reelected. Biden is currently campaigning for the 2020 Democratic nomination to run against Trump in November's general election.
"Every public official that I know believes that his election is in the public interest," Dershowitz said on Wednesday. "And mostly you're right. Your election is in the public interest. And if a president did something that he believes will help him get elected, in the public interest, that cannot be the kind of quid pro quo that results in impeachment."
Dershowitz also used a hypothetical example to explain why the impeachment against Trump was a "complex case" and how his actions were aimed at the public interest.
"If a hypothetical president of the United States said to a hypothetical leader of a foreign country, unless you build a hotel with my name on it and unless you give me a million-dollar kickback, I will withhold the funds. That's an easy case, that's purely corrupt and purely private interest," Dershowitz said. "But a complex middle case is, I want to be elected, I think I'm a great president, I think I'm the greatest president there ever was and if I'm not elected the national interest will suffer greatly."
During Nixon's impeachment investigation, the former president faced obstruction of justice, abuse of power and contempt of Congress charges for his involvement in the 1974 cover-up of a break-in at the Watergate Complex in Washington, D.C. Four of the burglars later testified that they were looking for information that would damage the Democratic Party prior to Nixon's re-election campaign.
While appearing on CNN Thursday, Dean expanded on why he believes Dershowitz's arguments "unimpeached" Nixon.
"Nixon was truly motivated by the belief he was the best person to be president of the United States. He was a peacemaker, so he obstructed justice and abused powers to enhance his own power and that was his motive. It wasn't financial; it wasn't ego-gratification," Dean said.
Following his arguments on Wednesday, The Hill published an opinion column from Dershowitz in which he explained his comments about Nixon were to "mischaracterized" to mean "that a president who believes his reelection is in the national interest can do anything."
"My argument was that if a president does something legally within his authority—such as withholding aid, sending soldiers home, or breaking a promise to bomb Syrian military facilities if they use chemical weapons—the fact that he was motivated in part by his desire for reelection does not, in itself, constitute impeachable conduct," Dershowitz wrote.