Donald Trump 'Put Us at Risk,' Exposed Himself to Blackmail by Lying About Russia Dealings, Says Former Obama U.S. Attorney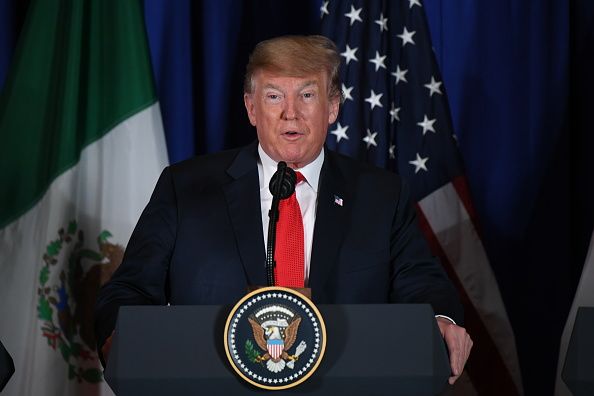 President Donald Trump may have put Americans "at risk by lying" about his company's business dealings with Russia during the 2016 election, says former Obama U.S. Attorney Joyce Vance.
"Trump put us at risk by lying about the Trump Moscow deal & exposing himself to blackmail," Vance tweeted on Friday morning. "We don't know yet whether US policy or anything else was impacted, but the man who did this lacks the fundamental character & judgment necessary to be entrusted with leading our country."
Vance was appointed by former President Barack Obama to serve as the U.S. Attorney for the Northern District of Alabama. After retiring in 2017, she revealed that the first time Obama met with the new attorneys he told them, "I appointed you, but you don't serve me. You serve the American people. And I expect you to act with independence and integrity."
The bombshell that Trump was still heavily involved in business negotiations with Moscow well into his 2016 campaign was dropped when the president's former personal attorney Michael Cohen pleaded guilty to lying to Congress on Thursday morning.
Cohen told a federal judge that he lied to the Senate Intelligence Committee in 2017 about a proposed Trump Tower real estate project in Russia. He had previously claimed that talks about the project ended in January 2016, but this week he admitted that active discussions were still going on as late as June 2016.
In his court statement, Cohen said that he lied to Congress "out of loyalty" to Trump and his "political messaging."
Cohen's plea deal, his second in the past four months, is part of a new agreement with special counsel Robert Mueller. Mueller is investigating Russian election meddling and possible collusion between Russia and the Trump campaign.
Shortly after the news broke, President Trump slammed Cohen as a "weak man" and defended his decision to pursue business dealings with Russia even while running for president.
"[Cohen's] got himself a big prison sentence. And he's trying to get a much lesser prison sentence by making up this story," Trump told reporters before he left the White House for the G20 economic summit in Buenos Aires. Trump's attorney Rudy Giuliani also bolstered the claim that Cohen is a "liar" who can't be trusted.
"Cohen has just told us he's a liar. Given the fact that he's a liar, I can't tell you what he's lying about," Giuliani told The New York Times.
In a series of early morning tweets on Friday morning, Trump doubled down on his innocence and claimed that he was only "lightly" looking at a possible business deal with Russia.
"Oh I get it! I am a very good developer, happily living my life, when I see our Country going in the wrong direction (to put it mildly). Against all odds, I decide to run for President & continue to run my business-very legal & very cool, talked about it on the campaign trail… Lightly looked at doing a building somewhere in Russia. Put up zero money, zero guarantees and didn't do the project. Witch Hunt!"