Former Officer Arrested in Capitol Riot Asks Followers to 'Rise Up' Against Republicans
A former police officer arrested for his alleged participation in the U.S. Capitol riot is calling for conservatives to "rise up" against Republicans.
Kevin Tuck was arrested on July 15 in connection to the January 6 insurrection. Tuck, 51, was a member of the Windermere Police Department until he was arrested and resigned. His son Nathaniel, who is also a former police officer, is also facing charges.
According to Assistant U.S. Attorney Jennifer Harrington, both men boasted to their families about storming the Capitol.
Tuck has been charged with obstruction of an official proceeding; entering and remaining in a restricted building or grounds; disorderly and disruptive conduct in a restricted building or grounds; entering and remaining in the gallery of Congress; disorderly conduct in a Capitol building; and parading, demonstrating or picketing in a Capitol building.
Tuck and his son are listed in a court indictment as co-defendants of Arthur Jackman and Paul Rae, both of whom are associated with the Proud Boys.
WFTV, a local ABC affiliate, reported Tuesday Tuck assailed the charges in a new video posted to Youtube. He has pleaded not guilty to all counts.
"You look at January 6, that was a day that patriots were fed up—fed up," he said. "Patriots are being arrested left and right for trespassing. You've got to be kidding me."
WFTV reported Tuck also railed against members of the GOP and "alternative lifestyles."
"The Republican Party is weak," he said. "We need to rise up and be conservative again. Do you remember what conservative means, Republicans? Hear me out: We are embracing the homosexual lifestyle as if this is normal."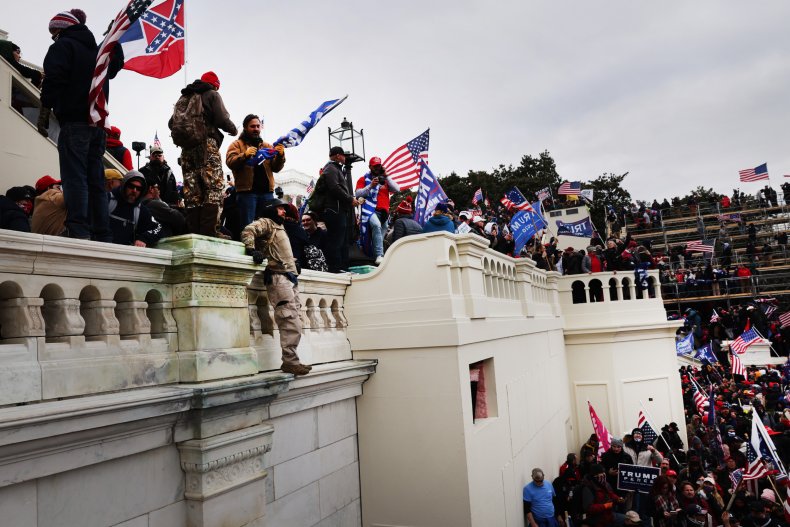 More than 500 people have been arrested so far in connection with the Capitol attack.
Forbes reported that Texas and Florida lead the country in charges connected with the January 6 riot. The Sunshine State has been the site of 56 arrests so far. In Texas, 55 people have been apprehended.
Attorney General Merrick Garland said in late June the Justice Department will "continue to follow the facts in this case and charge what the evidence supports to hold all January 6 perpetrators accountable."
Following Tuck's arrest earlier this summer, Windermere Police Department Chief David Ogden said the force was "disheartened" by the events.
"The Windermere Police Department [WPD] has worked tirelessly over the past eight years to build a reputation of serving with Honor, Integrity and Service to our residents and this arrest doesn't reflect on the hard work of the men and women of the Windermere Police Department," Ogden said. "It saddens all of us in the law enforcement community to see criminal charges brought forward of any misconduct involving a police officer."
A status hearing in Tuck's case is scheduled for October 1, according to the Justice Department.
Newsweek reached out to the Justice Department for additional comment, but didn't receive a response before publication.