Former Officials Assail DHS Report on Violent Extremism as Light on Details, Nothing New
President Biden's administration has released its first counterterrorism report on domestic threats following the assault on the U.S. capitol.
Former officials contacted by Newsweek criticized the report, saying that the assessment did not go far enough to map out specific risks posed by anti-government forces at home and efforts to tackle them.
"It's pretty much worthless," said one former federal law enforcement official who spoke with Newsweek on the condition of anonymity. "There are no specifics and nothing actionable."
The former official questioned the motivation behind the report.
"It looks like a basic 'cover your ass' that they wished they had done before January 6th," the former official said, "like the FBI Norfolk office tried to do."
Similar warnings had been dismissed leading up to the Capitol insurrection, the former official explained.
"I imagine that when NYPD intelligence and FBI Norfolk tried to warn of the 6th, the intelligence analysts at FBI HQ, LX 1 and LX2 (Liberty Crossing) looked at this and said 'who the f**k are these guys? They are way out of their lane,'" the former official told Newsweek.
The Department of Homeland Security did not immediately respond to Newsweek's request for comment.
The bulletin, issued Wednesday by the Department of Homeland Security's National Terrorism Advisory System, warned of a "heightened threat environment across the United States, which DHS believes will persist in the weeks following the successful Presidential Inauguration."
It spoke largely in general terms of threats posed by destabilizing forces on the homefront.
"Information suggests that some ideologically-motivated violent extremists with objections to the exercise of governmental authority and the presidential transition," the report said, "as well as other perceived grievances fueled by false narratives, could continue to mobilize to incite or commit violence."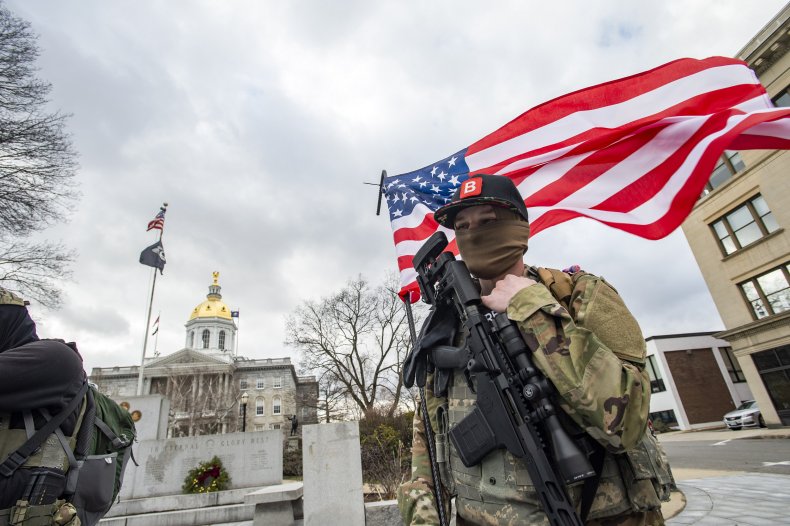 The document specifically identified what it referred to as "Domestic Violent Extremists (DVEs)" implicated in recent attacks, such as 2019 El Paso shooting in which a far-right shooter killed nearly two dozen Latinos, and "Homegrown Violent Extremists (HVEs)," with alleged inspiration from designated foreign terrorist organizations that have been linked to three attacks against government officials over the past year.
That day, protesters rallied by President Donald Trump laid siege to the U.S. Capitol and stormed the iconic building, breaking through light security lines in an attempt to interrupt the ratification of Biden's electoral victory. Five people died in the melee, including a Capitol Police officer, and hundreds have been arrested or remain under investigation for potential charges.
Federal law enforcement has since received substantial criticism for not adequately preparing for what is increasingly suspected to be an organized effort to infiltrate the Capitol. These suspicions are fueled by the degree to which links have been established between far-right movements and members of the law enforcement and veteran communities.
Among the roughly 134 arrested since the incident earlier this month, some 20% were veterans, according to figures released by NPR. Many more people who have been accused or simply present at the Capitol were revealed to be former or active law enforcement members, part of a trend on which analysts specializing in hate groups have increasingly raised the alarm.
But none of this is mentioned in the latest report, which many had hoped would signal a turnaround from the previous administration.
"At the very least they could have said if you are receiving info on the tip line on vets or law enforcement who are sympathetic, call here," the former official said. "In the Beltway who is keeping track of all these tips?"
The former official contrasted the response to that applied to Islamic fundamentalist groups inspired by the likes of the Islamic State (ISIS) and Al-Qaeda.
"If this was an Islamic threat they'd be all over this," the former official said. "This indicates to me they have not changed how they are going to confront this threat."
Brian Harrell, who served as Trump's DHS Assistant Secretary for Infrastructure Protection starting in 2018 before his resignation last August, said the DHS alert "said absolutely nothing new."
But he said its release did serve some public good.
"There's value in soliciting the public's assistance in identifying and alerting authorities about suspicious activity," Harrell said. "The watchful public will always be the best 'eyes and ears' for law enforcement."
And while the majority of political violence over the past year was conducted by far-right groups and individuals, some instances of left-wing violence have been identified as well.
Former DEA Agent in Charge of Special Operations Derek Maltz said he supported more communication on national security issues with the public. But he wanted more specifics on the sometimes violent nationwide demonstrations that followed the police killing of George Floyd, a Black man, in Minneapolis last year, and recent crime spikes across the country.
"I also hope DHS will increase the reporting on the threats that no one seemed to report on since the summer on all the violent extremists that were burning down cities, looting businesses and destroying property around America," Maltz told Newsweek. "I would also love to see more detailed reporting from DHS and FBI on the escalation of murders and shootings throughout the country."
But this too was missing from the alert, which simply identified DVE as being "motivated by a range of issues, including anger over COVID-19 restrictions, the 2020 election results, and police use of force."
Though summer's unrest was largely characterized by anger channeled among civil rights-oriented and left-wing groups and activists, including those aligned with Black Lives Matter and the largely unorganized Antifa movement, far-right attacks manifested here too.
At the height of the demonstrations and retaliatory crackdowns by state and federal agencies, a federal security officer was killed while guarding an Oakland courthouse in June.
The ambush was widely used at the time by those critical of the protests as an example of their lawlessness, but the culprit ended up being a member of the anti-government Boogaloos Bois movement.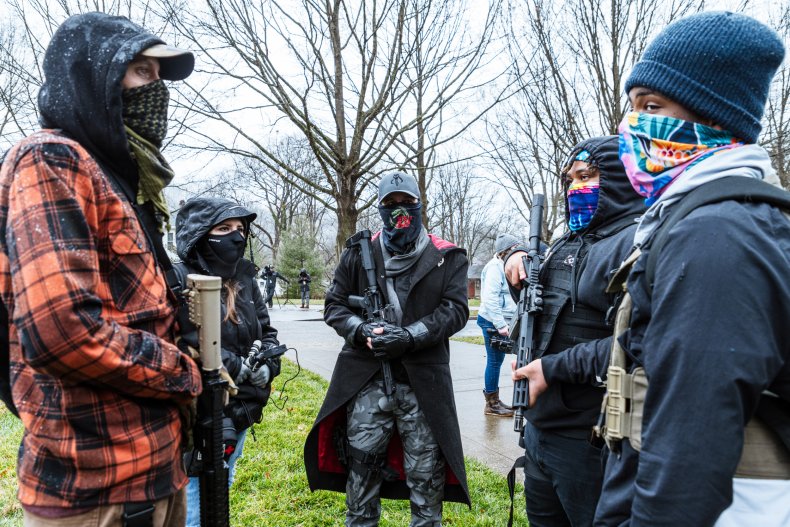 That group, bent on inciting civil war, is among the organizations charged with enforcing their views through violence and seeking to overthrow the government. In addition to demonstrating their deadliness, the attack also showed further evidence of the problematic ties between the veteran community and violent fringe groups.
In a recent statement to Newsweek, the Defense Department acknowledged this connection and the risks posed by it to national security.
"Left unchecked, domestic extremism in the military affects good order and discipline and degrades mission capability," a senior Pentagon official told Newsweek, "which definitely has a negative effect on our overall national security."
A former law enforcement executive who asked not to be named saw some benefit in the recent DHS release, but argued it should be a platform for a rethinking of how the government approaches counterterrorism efforts at home.
"Reporting things that they see online that foment violence or radicalization —for law enforcement it's a refocused recalibration," the former executive told Newsweek. "It helps local law enforcement to listen in on certain groups like white nationalist and ultra-nationalists like the Boogaloo Bois."
The former executive saw freedom of speech and expression as being limited in their application to those who have sworn to protect the country that these groups have demonstrated a propensity to attack.
"This should be used as an opportunity to explain the boundaries of the First Amendment and the risk of engaging in extreme political ideology," the former executive said. "If you're a police officer and you belong to the proud boys or Boogaloo Bois or the [Ku Klux] Klan, membership in these groups is antithetical to the mission of public safety."