Former Oklahoma City Thunder Worker Identified By Employees as Suspect in Capitol Riot
A former employee for the NBA's Oklahoma City Thunder was identified as a suspect in the January 6 Capitol riot after her colleagues contacted the FBI about her involvement in the attack.
Danielle Doyle, who worked for the team for more than a decade and had been a senior season ticket account manager when she left the Thunder in December 202, came under investigation after two former co-workers recognized her in videos posted online.
According to a criminal complaint filed in federal court, the first witness who knows Doyle from "when they both worked for a professional sports team in Oklahoma City," said she recognized the 37-year-old Oklahoman after a friend sent a video of the Capitol riot.
The second witness, who still works for the Thunder, identified Doyle to federal agents after other co-workers "circulated" the footage from January 6 amongst themselves.
"Witness 2 recalled that following the events at the U.S. Capitol on January 6, 2021, employees of the professional sports team circulated a video that CNN had aired," the criminal complaint stated. "The video was of individuals inside the U.S. Capitol during the breaching of the Capitol. Witness 2 obtained a copy of the video and identified Doyle as one of the individuals in the video."
The videos apparently showed Doyle climbing through a broken window to enter the Capitol building and walking down an interior staircase while filming herself with a cell phone.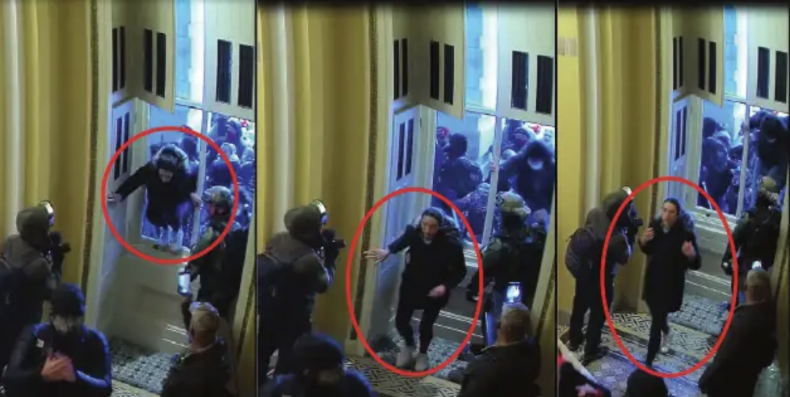 Doyle faces four misdemeanour counts—one for knowingly entering a restricted building without lawful authority, another for knowingly engaging in disorderly or disruptive conduct in a restricted building and two for violent entry and disorderly conduct on Capitol grounds.
Appearing in court on Wednesday, Doyle admitted to committing a federal crime on Jan. 6, entering a guilty plea to the misdemeanour for unlawful parading inside the Capitol. She faces up to six months in jail and potentially a year of supervised release.
U.S. District Judge Trevor McFadden set sentencing for Oct. 1. He warned Doyle that her behavior ahead of trial would count and noted a violation of the terms of release would be grounds for revoking those conditions.
Doyle is the second Oklahoman to be charged in the deadly attack on the Capitol.
Andrew Ericson of Muskogee was also charged in connection to the riot after a witness sent screenshots of his Snapchat account showing the 23-year-old man inside the Capitol building on January 6. In one photo, Ericson was seen with his feet propped on a table inside House Speaker Nancy Pelosi's conference room.