Former Pence Aide Endorses Biden, Says Trump Will Be 'Detrimental' to American Safety
The list of Donald Trump whistleblowers continues to grow, as Vice President Mike Pence's former Homeland Security advisor says "the president is going to do something detrimental to keeping Americans safe."
Olivia Troye, who was the lead staffer on Pence's coronavirus task force, corroborated with recent reports that Trump lied to the American public about the seriousness of the outbreak. In the latest Republican Voters Against Trump (RVAT) ad, Troye said the Trump administration knew as early as February that the virus would reach pandemic proportions.
"The virus was very unpredictable at the beginning. There were a lot of unknowns. But towards the middle of February, we knew it wasn't a matter of if COVID would become a big pandemic here in the United States: it was a matter of when," she said.
"But the president didn't want to hear that, because his biggest concern was that we were in an election year and how is this going to affect what he considered to be his record of success," she added. "It was shocking to see the president saying that the virus was a hoax, saying that everything's okay when we know it's not."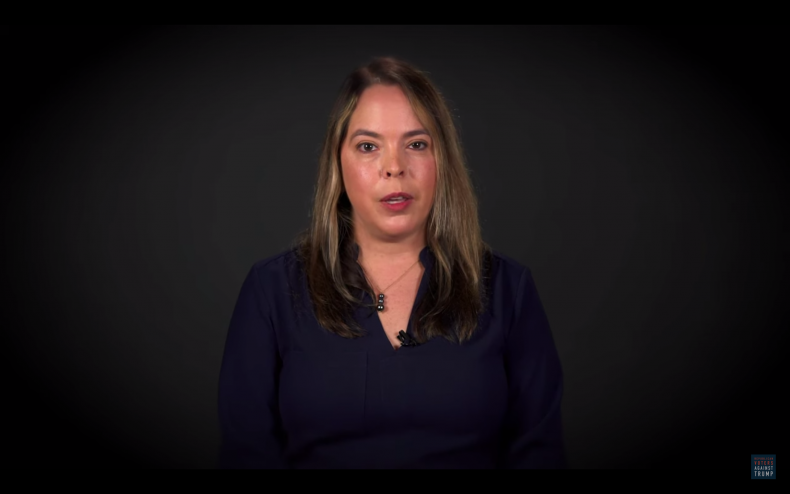 According to Bob Woodward's latest book, Rage, Trump admitted to downplaying the global health crisis in his daily briefings. The president told Woodward he wanted "to play it down" but that the COVID-19 was "deadly stuff."
In the new ad, Troye alleges that during a White House coronavirus task force meeting, the president suggested that the virus was a good thing because he doesn't like shaking hands with "disgusting people." The former White House member said Trump was referring to his supporters, who have been known to attend his crowded in-person rallies without face masks.
In a statement sent to Newsweek, White House spokesperson Judd Deere said Troye did not attend private meetings with Trump.
Troye also announced her endorsement of Democratic presidential nominee Joe Biden while noting that she has voted Republican her entire life.
"I am voting for Joe Biden because I truly believe we are at a time of constitutional crisis," she said. "At this point, it's country over party."
A number of prominent Republican officials have criticized Trump and come out in support of Biden ahead of the election.
"Never before have so many high-ranking staffers of an incumbent president opposed his reelection and endorsed his opponent," the strategic director of RVAT, Sarah Longwell, said in a press release.
"Even people who believed in the president have been shocked and horrified by who he is as a politician, a leader, and a person," she added.
The White House said that Troye had not brought up her concerns to anyone else on the team during her time there.
"Ms. Troye directly reported to me, and never once during her detail did she ever express any concern regarding the Administration's response to the Coronavirus to anyone in her chain of command," National Security Advisor to the Vice President Keith Kellogg told Newsweek in a statement.
Newsweek reached out to RVAT for comment on the White House's allegations that Troye did not work with Trump personally, but did not hear back before publication.