Former Pence Aide's Endorsing of Biden Will Start a 'Chain Reaction,' Says Ex-Trump Official
Former Department of Homeland Security (DHS) official Miles Taylor called ex–Mike Pence adviser Olivia Troye "a domino that's going to start a chain reaction of more people having the courage to speak up about this president," in response to her endorsement of Joe Biden in the latest Republican Voters Against Trump ad.
Troye, who was a homeland security and counterterrorism adviser to the vice president and his lead staffer on the White House's coronavirus task force, spoke out against the Trump administration in a two-minute video released Thursday. Troye cited President Donald Trump's disregard for the coronavirus pandemic as a main reason for her resignation.
"People are so affected by what they say in Donald Trump's White House that they feel like they have no other choice than to risk their careers and their reputations and their personal lives to come out and actually say what happened in this administration," Taylor, who was a DHS chief of staff, told CNN's New Day.
In his Friday morning appearance, Taylor said he served with Troye and described her as "a patriot," "an honest civil servant" and "someone who had a front row seat to this White House and this president's and the vice president's decision-making."
Both Trump and Pence have challenged Troye's claims and questioned her credibility.
Speaking to reporters at the White House on Thursday evening, Trump said, "She has nothing to do with me. I don't know her. I've never met her."
While Pence acknowledged working with the former staffer, he accused Troye of "playing politics," called her a "disgruntled employee" and said she had never complained about the administration's coronavirus response while working at the White House.
Keith Kellogg, the vice president's national security adviser, also echoed Pence's response, saying that "never once during her detail did she ever express any concern regarding the administration's response to the coronavirus to anyone in her chain of command," in a statement previously sent to Newsweek.
However, Taylor disputed both Pence's and Kellogg's comments. The former DHS chief of staff said he heard Pence and Kellogg praise Troye while she was on the team.
"Both of those individuals...have personally thanked me for referring Olivia Troye to their office and said she was doing an incredible job as his homeland security adviser," Taylor said on Friday.
He called the change in their opinion "par for the course" for the Trump administration.
"They like someone until that person criticizes them, and then they literally pretend to barely have known the person and say well that was just a backbench staffer who had no impact," he said. "That's not who Olivia Troye is. She was a central player in the coronavirus task force."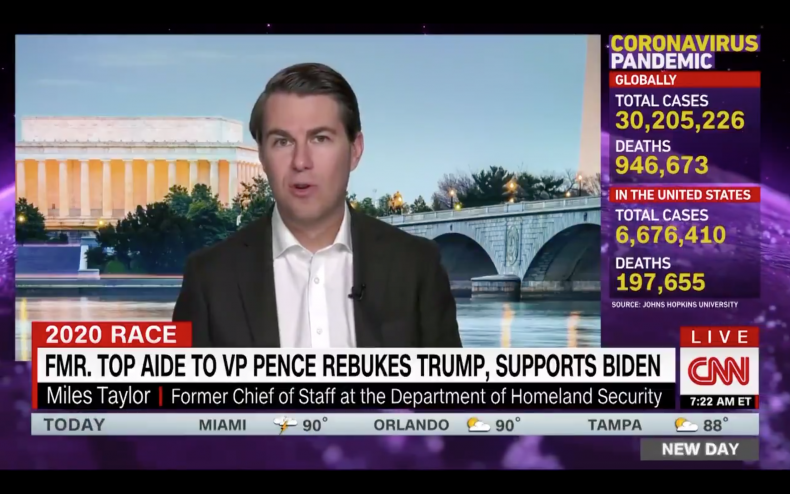 Dr. Anthony Fauci, director of the National Institute of Allergy and Infectious Diseases, also supported Troye, saying she was "important to the team as a staff person to the coronavirus task force." He told MSNBC on Thursday that he had worked with her personally and "liked that she was a good person."
"The American people should feel confidence in that a lot of people are looking at this very, very carefully to make sure that there's not political things that drive what should be scientific considerations," Fauci added.
Taylor, who stepped down last year, noted that the White House has repeatedly denounced allegations against the president's leadership for being anonymous. He said Troye was a key witness to Trump's capacity to act as a leader.
"Olivia Troye was one of those people...who was in the room where that happened, and she is providing that firsthand testimonial that Donald Trump, on the most important national security issue of his entire presidency, was totally, totally checked out," Taylor said. "To the extent that he was more focused on his re-election than he was on saving American lives."
Taylor added, "Right now, America is trying to decide whether to retire or rehire Donald Trump, and these people feel like it's important to come out and say the truth."
Newsweek reached out to the White House for comment but did not hear back before publication.
Last month, Taylor launched the Republican Political Alliance for Integrity and Reform (REPAIR), an anti-Trump group of current and former administration officials and leaders who do not want to see the president re-elected.
The former chief of staff to Education Secretary Betsy DeVos, Josh Venable, announced he was joining the group on Thursday. Troye has also joined REPAIR alongside other officials, including former White House communications director Anthony Scaramucci.