Former Police Chief Arrested in Baby Trafficking Ring Bust
An ex-national police chief has been arrested in a police operation to break up a baby trafficking ring in the southern Peruvian city of Arequipa.
Former police general Raul Becerra was detained with his partner in a dawn raid of his home Tuesday, the Associated Press reported. Police believe they are part of a group of 15 that took babies from poor mothers to sell them on the black market.
Around 500 police officers and dozens of prosecutors were involved in a series of raids on 18 homes and businesses, the BBC explained. A pediatrician and a gynecologist were also arrested, while a 5-month-old baby was rescued.
Becerra, 61, served as director of the country's national police force from 2010 to 2011. During his brief stint in office, the general was accused of sexual harassment by one of his subordinates, Peruvian newspaper El Comercio noted.
Becerra was already a controversial figure, having faced allegations of overseeing police brutality and extrajudicial assassinations when dealing with criminal gangs earlier in his career.
Police said his 32-year-old partner, Cintia Tello, is suspected of heading up the trafficking ring, which worked with hospital staff who could identify vulnerable women.
Another two women—named as Kathy Quinteros and Mari Quispe by El Comercio—were also detained. Their role was to stand outside a hospital and find pregnant women who were trying to find illegal abortionists, police said. Such procedures are only allowed in Peru if the mother's health is at risk.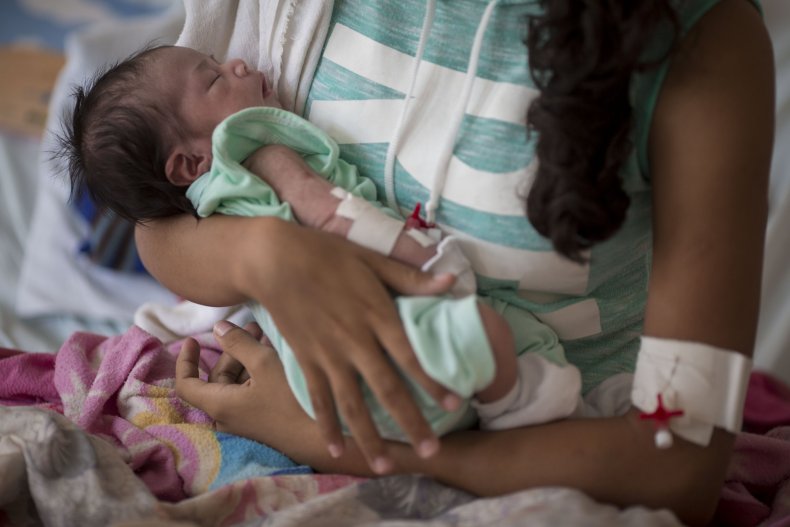 They would then convince the mothers-to-be to carry their children to term, agreeing to buy the babies as soon as they were born. Prosecutors explained that the cost of a baby was around 4,000 Peruvian soles ($1,187) each.
Each member of the organization had a role. After the babies were born, they would be passed along a chain of people who would take turns caring for them, including the medical professionals detained Tuesday.
Meanwhile, the leaders of the gang would seek out and negotiate with clients. El Comercio named Roque Florentino Yáñez Quispe as a central intermediary and Sharo Yáñez Quispe as one of those would who take care of the children.
Prosecutors have opened an investigation with a view to charges including organized crime, people trafficking and crimes against life and health, The Guardian reported.
Officials are also looking into the motive behind the sales—whether for illegal adoption domestically, internationally or even for organ trafficking purposes.
Officers also seized around $30,000, cell phones, two vehicles and multiple documents in Tuesday morning's coordinated raids.