Former Police Chief Talks Violent Police Tactics Used Amid Protests and Why They May Be A Bad Idea
When it comes to handling protests over George Floyd's death, former Madison, Wisconsin, chief of police David Couper is urging officers to approach the use of violent tactics with caution.
Peaceful protests have been overshadowed by demonstrations in which rioters looted businesses, burned cars and buildings and shut down roads. The National Guard was deployed and officers used tear gas and rubber bullets in attempts to restore order.
Couper, creator of the "Madison Method," revolutionized policing in the city by preaching a soft approach and putting a prime on building relationships between the community and police. He told Newsweek that law enforcement has to "handle the violence," and that he understood why officers used tear gas and pepper spray.
However, he added that needing to use it indicates that officers "lost control" and it's possible the tactic could invigorate the crowd to be increasingly more anti-police.
"I really question the rubber bullets because you could get somebody in the eye or the face and you're talking about a major injury," Couper said.
One of the issues in these protests facing officers is failing to separate the peaceful participants who are out during the day and the people who are burning buildings and breaking windows at night. Grouping both demonstrations together can be "dangerous" thinking, according to Couper, who acknowledged that it's difficult to avoid because "you're tired and scared" and requires strong, hands-on leadership.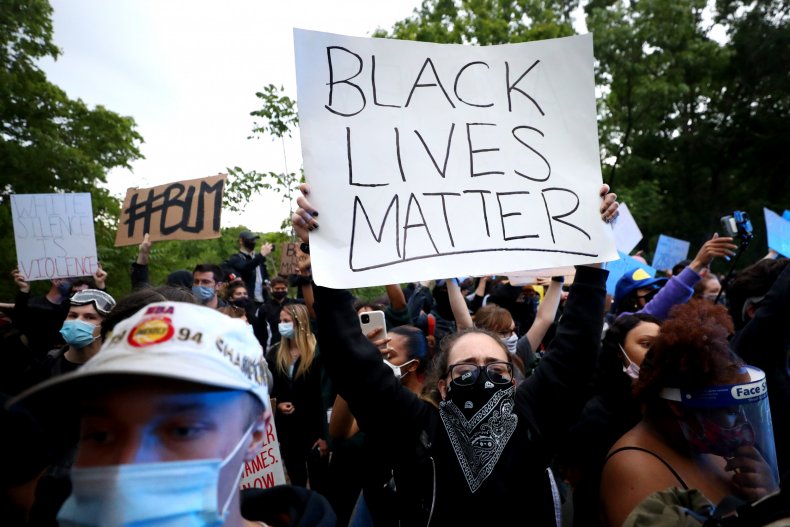 Images depicting lines of officers in tactical gear and holding shields flooded social media. Departments faced criticism for their strong response to demonstrations whose catalyst was an officer's excessive use of force. It's not uncommon for officers to armor up in these situations, and Couper said it's the one most departments are comfortable with because "that's how it's always been done."
With both daytime and nighttime demonstrations, he cautioned officers against over-gearing before the situation warrants it. During a protest, not everyone will see officers as being in attendance to protect their constitutional right to assemble, so he advocated for officers engaging with protesters, first. With other officers on "stand-by," more controlling tactics could be implemented "if things go south."
Not everyone agrees with Couper's tactics and Anthony Batts, who led police departments in two California cities and Baltimore, told The Marshall Project that strategies like the Madison Method make crowds go "ballistic."
"When you have overly aggressive crowds you have to address them," Batts said.
In Philadelphia, Police Commissioner Danielle Outlaw defended using tear gas to disperse protesters who blocked I-676, a major highway, as a necessary measure to defuse "a dangerous and volatile situation." Once protesters ran onto the freeway, she said, it's no longer peaceful and both the people on the highway and in vehicles can get hurt.
Officers in Madison also used chemical agents as an incentive to disperse a group of people who were breaking business windows and attempting to enter a jewelry store. In a statement, the Madison Police Department said it will continue to protect community members' First Amendment Rights, but would not tolerate violence and property damage.
An MPD Special Events Team was prepared to deploy on Tuesday night should violence erupt when a woman informed them the peaceful protest was over, a message she conveyed to demonstrators, as well. The group she was with returned to the officers to wish them a "safe night" and hand out flowers.
"I thought it was incredibly brave for these three individuals to approach the police, and offer a gesture of kindness," the unnamed officer said in an account posted on the department's website. "This demonstrated to me what almost all of us recognize–many of those in the crowd wish to lawfully express their constitutional liberties, and only a small group of people are causing the chaos we have seen."
Couper came up with the"soft approach" following the destruction of north Minneapolis after Dr. Martin Luther King Jr.'s assassination in 1968. At the time, he was a member of Minneapolis' tactical squad that had their "shotguns on the ready to stop the burning and looting." At the last minute, the squad received a call to "stand down," and as a young officer, he was skeptical about the logic.
"It was the best decision because a whole bunch of people would have died and a lot of us could have been killed, too," Couper said.
That experience made him realize "we have to do something different," and with an understanding of racism in America from his professors, he eventually created the "Madison Method." At the heart of the policy is the view that police officers are "social workers in blue," and that law enforcement needed to have a relationship with the black community.
One strategy he implemented during his tenure that ran from 1973 until 1993 was to embed officers in the crowd of demonstrators as the first response. Instead of a traditional police officer uniform, they wore blazers with the department patch on their pocket and were tasked with passing out handouts explaining their role at the demonstration and what people could expect of their behavior.
A National Institute of Justice report from 1993 found shifts in the approach to policing in Madison resulted in "steady and continuing" change. A 2015 study in protest policing by the Saint University Public Law Review also found that when crowds think they're engaging in "lawfully and constitutionally protected behavior" and are met with "indiscriminate and illegitimate enforcement actions," there will be an increased willingness to "defy, rebel against, or use violence against the police."
Couper said he is hopeful that America has the "resilience" as a people to come out on the other side of the current state of unrest. But, it's going to require a "tremendous" amount of work because right now, he said, because cities, especially communities of color, have a depleted "virtual trust bank" that officers have done enough good that they deserve some slack.
"There's no slack. There's nothing in the bank and in fact the bank has been overdrafted," Couper said. "That's what's going on right now. There's no sense of we'll cut the police some slack here."