Former Police Union Boss Ed Mullins Accused of Stealing From Members
Criminal charges against Ed Mullins, the former head of the New York City Sergeants Benevolent Association (SBA) who has been known for clashing with city officials over his controversial tweets, have been filed following a federal investigation.
On Wednesday, Mullins was charged with one count of wire fraud in connection with a scheme to steal hundreds of thousands of dollars from the police union that he presided over for nearly two decades.
"As alleged, Edward Mullins, the former President of the SBA, abused his position of trust and authority to fund a lavish lifestyle that was paid for by the monthly dues of the thousands of hard-working Sergeants of the NYPD," U.S. Attorney Damian Williams said in a press release. "Mullins submitted hundreds of phony expense reports to further his scheme, stealing hundreds of thousands of dollars from the SBA."
"As President, Mullins was responsible for promoting the general welfare of the SBA's membership," the release read. "Instead, Mullins orchestrated a scheme to steal hundreds of thousands of dollars from the SBA and its members."
The charges are the most recent development in the case against the ex-police union boss, who resigned from his position shortly after the FBI raided his home and the union's Manhattan office last October, WABC reported.
A month after he was placed on modified duty and had his gun and badge taken away, Mullins retired from the New York City Police Department (NYPD) after nearly 39 years of service.
At the time of the raid, SBA informed its members that "the nature and scope of this criminal investigation has yet to be determined."
"However, it is clear that President Mullins is apparently the target of the federal investigation. We have no reason to believe that any other member of the SBA is involved or targeted in this matter," the union's executive board wrote in a letter.
On Wednesday, Williams' office said that it is suspected Mullins began defrauding the SBA around 2017 and up until the October 2021 raid, seeking reimbursement from the union for meals at high-end restaurants and luxury purchases.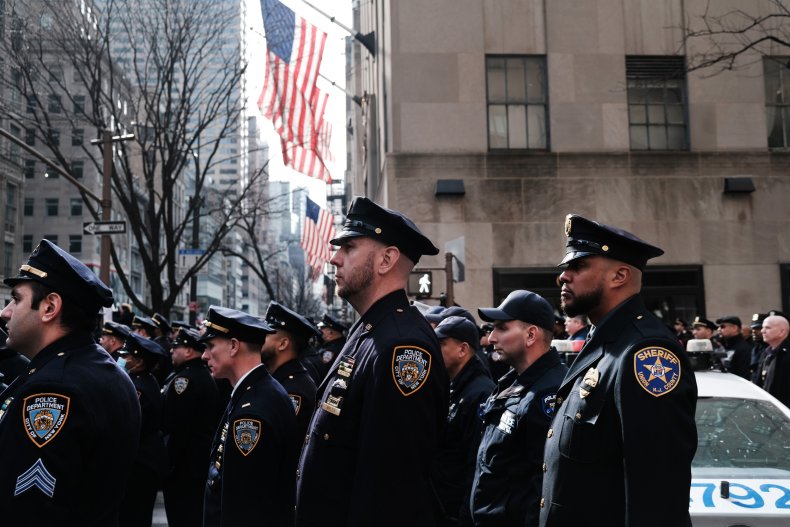 The SBA, which is the fifth-largest police union in the U.S. according to its website, represents about 13,000 active and retired NYPD sergeants and oversees a $264 million retirement fund.
Under Mullins' leadership since 2002, the union has successfully negotiated better contracts for NYPD sergeants with 40-percent pay increases and has become a vocal opponent to police reform.
Last year, Mullins was forced to give up 70 vacation days after a disciplinary panel investigated a variety of administrative charges, including his derogatory tweets about two city officials and one tweet where he shared NYPD paperwork on the arrest of former New York City Mayor Bill de Blasio's daughter during the George Floyd protests.
The former union head, who is an outspoken Donald Trump supporter, was also known for his controversial tweets about city officials, NBC News reported, referring to some of them as a "first class whore" and a "b---h," and appearances on Fox News and Newsmax.
Although Mullins was a full-time union chief, city law allowed him to collect salaries from both the union and the police department. Public records indicate that he made more than $220,000 between the two in 2020.