Former President Carter Entering Hospice Care
Former President Jimmy Carter is now at home and will receive hospice care after a series of "short hospital stays," according to a Saturday tweet from The Carter Center.
"After a series of short hospital stays, former U.S. President Jimmy Carter today decided to spend his remaining time at home with his family and receive hospice care instead of additional medical intervention. He has the full support of his family and his medical team. The Carter family asks for privacy during this time and is grateful for the concern shown by his many admirers," the statement read.
Carter, who is 98-years-old, is the longest living former president in United States history. Carter surpassed former President George H.W. Bush as the oldest former president in March 2019. Bush was born less than four months before Carter on June 12, 1924.
Carter, the 39th president and a Democrat, survived a cancer diagnosis in 2015 and a serious fall in 2019 that fractured his pelvis, according to the Associated Press.
Carter became president after defeating former President Gerald R. Ford in 1976. However, he only served a single term and was defeated by former President Ronald Reagan in 1980.
Political analyst Robert Collins told Newsweek on Saturday, "Perhaps the most interesting thing about Jimmy Carter is that he will be remembered more for his time as a humanitarian, than for his time as president. He entered the White House at a difficult time, with a bad economy, and, of course, the Iran hostage crisis tanked his popularity, and ended his re-election chances. But he successfully reinvented himself with his work as a special envoy for several presidents, negotiating peace deals, and his work as an advocate and carpenter for Habitat for Humanity, building houses for the poor and working class."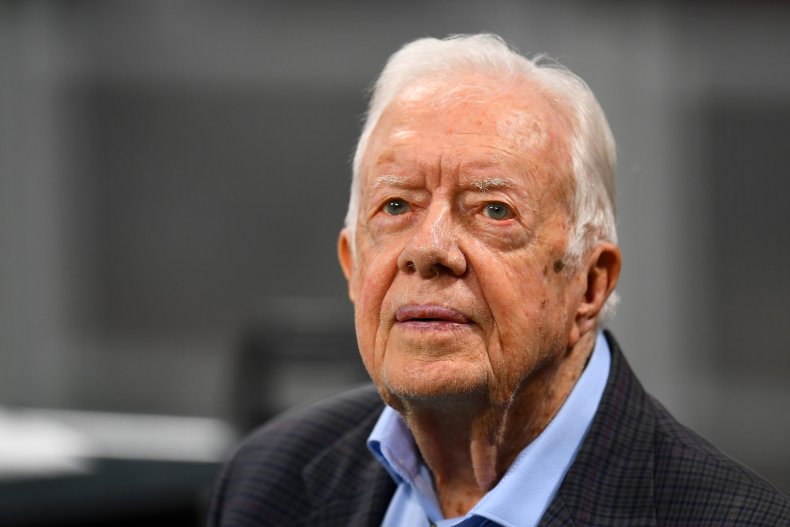 "That will be his legacy," Collins concluded.
Jason Carter, the former president's grandson, posted to Twitter on Saturday afternoon thanking everyone for "your kind words."
"I saw both of my grandparents yesterday. They are at peace and—as always—their home is full of love," he added.
Notably, Carter spoke with then-President Donald Trump in 2019 about Trump's concern about China. While speaking to a church congregation, Carter said Trump was worried that "China is getting ahead of us," and suggested that he was right to be concerned.
He told the congregation that Trump feared China's growing economic strength as models indicated the country would overtake the U.S. as the world's strongest economy by 2030.
Carter said he did not "really fear that time, but it bothers President Trump, and I don't know why. I'm not criticizing him this morning," he added, to laughs from fellow churchgoers.