Former President George W. Bush Visits New Orleans for Hurricane Katrina's 10th Anniversary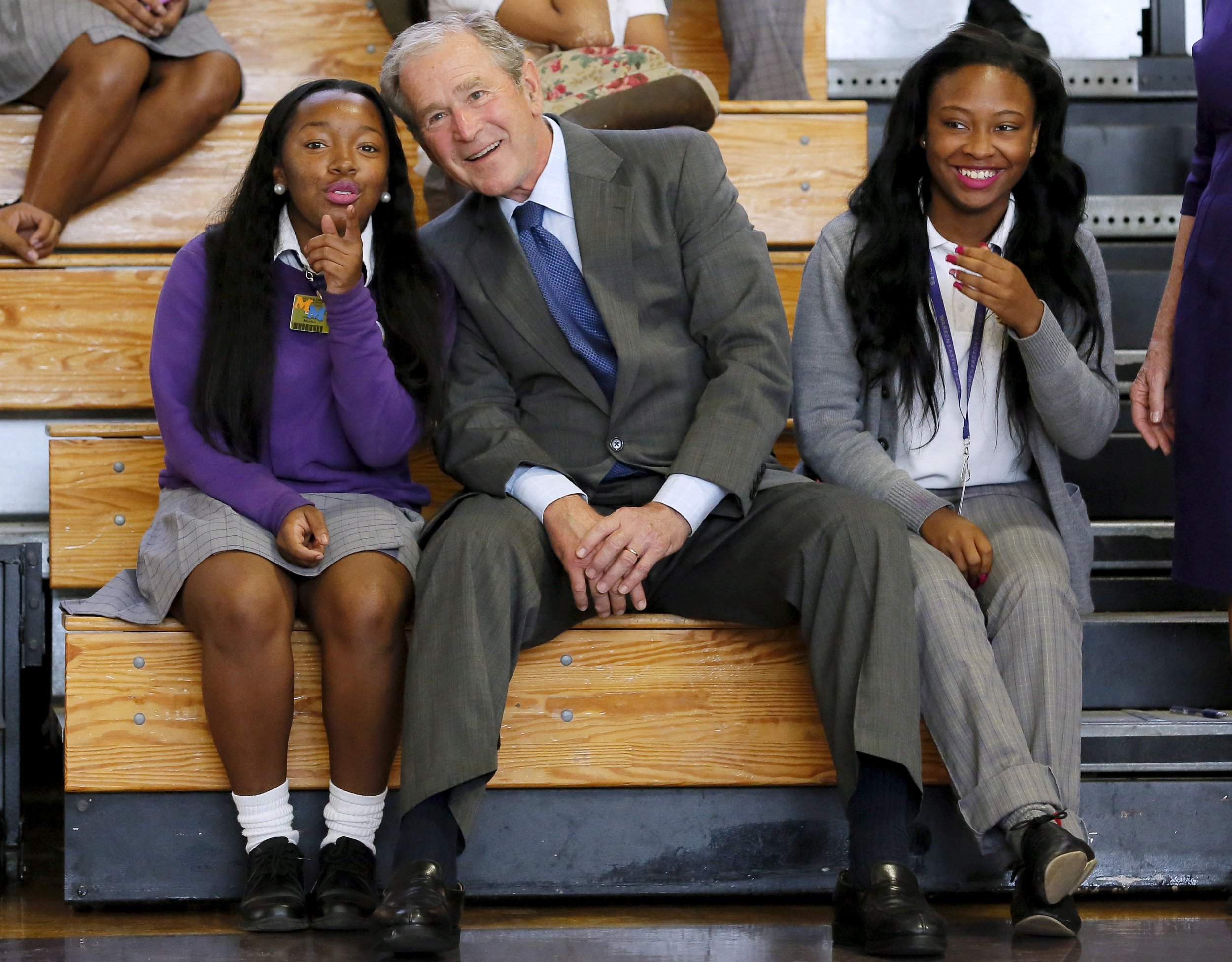 Former President George W. Bush returned to New Orleans on Friday, a day before the 10-year anniversary of Hurricane Katrina. Bush was president during the 2005 disaster, arguably one of the low points of his two terms.
Bush and his wife, Laura, both spoke Friday morning at Warren Easton Charter High School, the oldest public school in New Orleans. Most of his remarks focused on the reformation of the school system. Hurricane Katrina destroyed most of the schools in the Louisiana city.
A year after the storm, Warren Easton reopened as a charter school, with the help of the Laura Bush Foundation for America's Libraries.
"In a cruel twist, Hurricane Katrina brought despair during what should have been a season of new hope: the start of a new school year," Bush said. "Hurricane Katrina is a story of loss beyond measures. It's also a story of commitment and compassion."
Katrina made landfall on August 25, 2005, causing unprecedented destruction along the Gulf Coast and killing more than 1,800 people. Bush's reputation was badly damaged for his slow response to the hurricane. In the wake of the crisis, many Americans viewed him as an ineffective crisis manager.
The area where Bush stood on Friday was once submerged underwater by the hurricane, which wrecked schools and houses across the city. Bush said 30,000 people were saved in the immediate aftermath of the storm by U.S. military personnel, Louisiana law enforcement officials and citizens. Thousands of people came to the city as volunteers to provide food and find shelters for residents in 2005, he said.
Bush and his wife first visited Warren Easton a year after the hurricane. The former president said he was at the school on Friday to remind the country what strong leadership means.
"You've given all Americans reason to believe that New Orleans is back, and better than ever," he said. "On this anniversary, the work of making a stronger and more hopeful New Orleans goes on."
He added, "The darkness from a decade ago has lifted, the crescent city has risen again, and its best days lie ahead."
A day before Bush delivered his remarks, President Barack Obama spoke at the Andrew P. Sanchez Community Center in New Orleans. Before his speech, Obama met with residents of the city's Lower 9th Ward, which suffered extensive damage during the hurricane. He compared the city's recovery to America's restoration after the Great Recession.
Former President Bill Clinton will speak in New Orleans on Saturday.