Former President George W. Bush Speaks Out on George Floyd Protests, Calls For 'Peace Rooted in Justice'
On Tuesday, former U.S. President George W. Bush released a statement sharing his and former first lady Laura Bush's "anguish" over the death of George Floyd, the 46-year-old black man whose death in police custody has sparked national protests and riots.
While the statement acknowledged a continuing legacy of institutionalized racism that denies black U.S. citizens justice in their own country, it also declared, "Looting is not liberation, and destruction is not progress."
Ultimately his statement urged citizens, law enforcement and government officials to work towards "fairness and legitimacy of the legal system... [and] achieving justice for all," noting, "There is a better way ... [and] a peace rooted in justice."
"Laura and I are anguished by the brutal suffocation of George Floyd and disturbed by the injustice and fear that suffocate our country" his statement begins. "Yet we have resisted the urge to speak out, because this is not the time for us to lecture. It is time for us to listen ... to the voices of so many who are hurting and grieving."
Stating that many African Americans, especially young men, are "continually harassed and threatened in their own country," Bush said the death of Floyd raised a "long-overdue question: How do we end systemic racism in our society?"
"America's greatest challenge has long been to unite people of very different backgrounds into a single nation of justice and opportunity," Bush wrote.
"The doctrine and habits of racial superiority, which once nearly split our country, still threaten our Union," he continued. "We have often underestimated how radical that quest really is, and how our cherished principles challenge systems of intended or assumed injustice."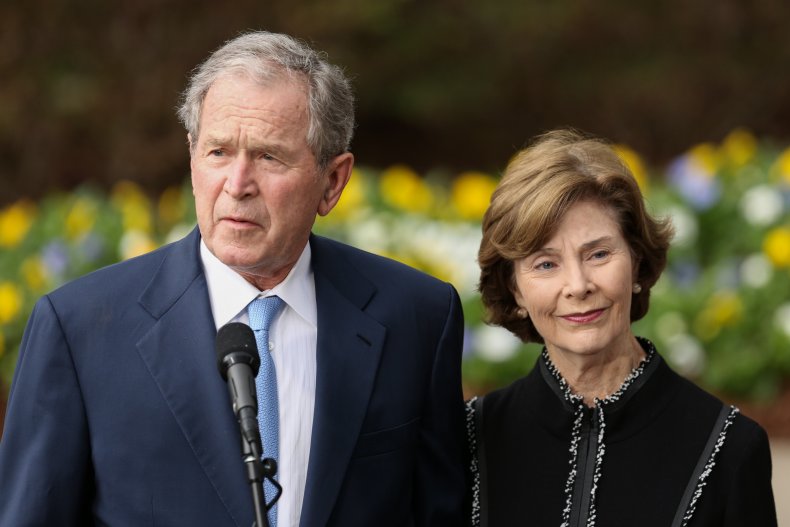 Bush then cited American civil rights "heroes of unity" like Frederick Douglass, Harriet Tubman, Abraham Lincoln and Martin Luther King, Jr. and added, "Their calling has never been for the fainthearted. They often revealed the nation's disturbing bigotry and exploitation—stains on our character sometimes difficult for the American majority to examine."
He then said that U.S. citizens can only "see the reality of America's need by seeing it through the eyes of the threatened, oppressed, and disenfranchised."
"That is exactly where we now stand. Many doubt the justice of our country, and with good reason. Black people see the repeated violation of their rights without an urgent and adequate response from American institutions. We know that lasting justice will only come by peaceful means," Bush wrote.
Although Bush wrote that the efforts towards racial justice "will require a consistent, courageous, and creative effort," his statement stopped short of suggesting any specific policies that can aid that quest.
"There is a better way—the way of empathy, and shared commitment, and bold action, and a peace rooted in justice," Bush wrote. "I am confident that together, Americans will choose the better way."
Newsweek reached out to the George W. Bush Presidential Library for further information. This story will be updated with any response.
During his tenure as president, Bush appointed many people of color in top-tier cabinet roles. He also supported expanding the publication of government information into Spanish, publicly advocated for studying racial profiling in local police forces and acknowledged racial inequality in housing and education.
However, in 2003, the Bush administration argued against affirmative action programs in a U.S. Supreme Court case. He was also widely criticized for his slow action to help New Orleans and its large black population before and after the onslaught of Hurricane Katrina in August 2005.