Jimmy Carter 'Surprisingly at Ease' With Cancer Diagnosis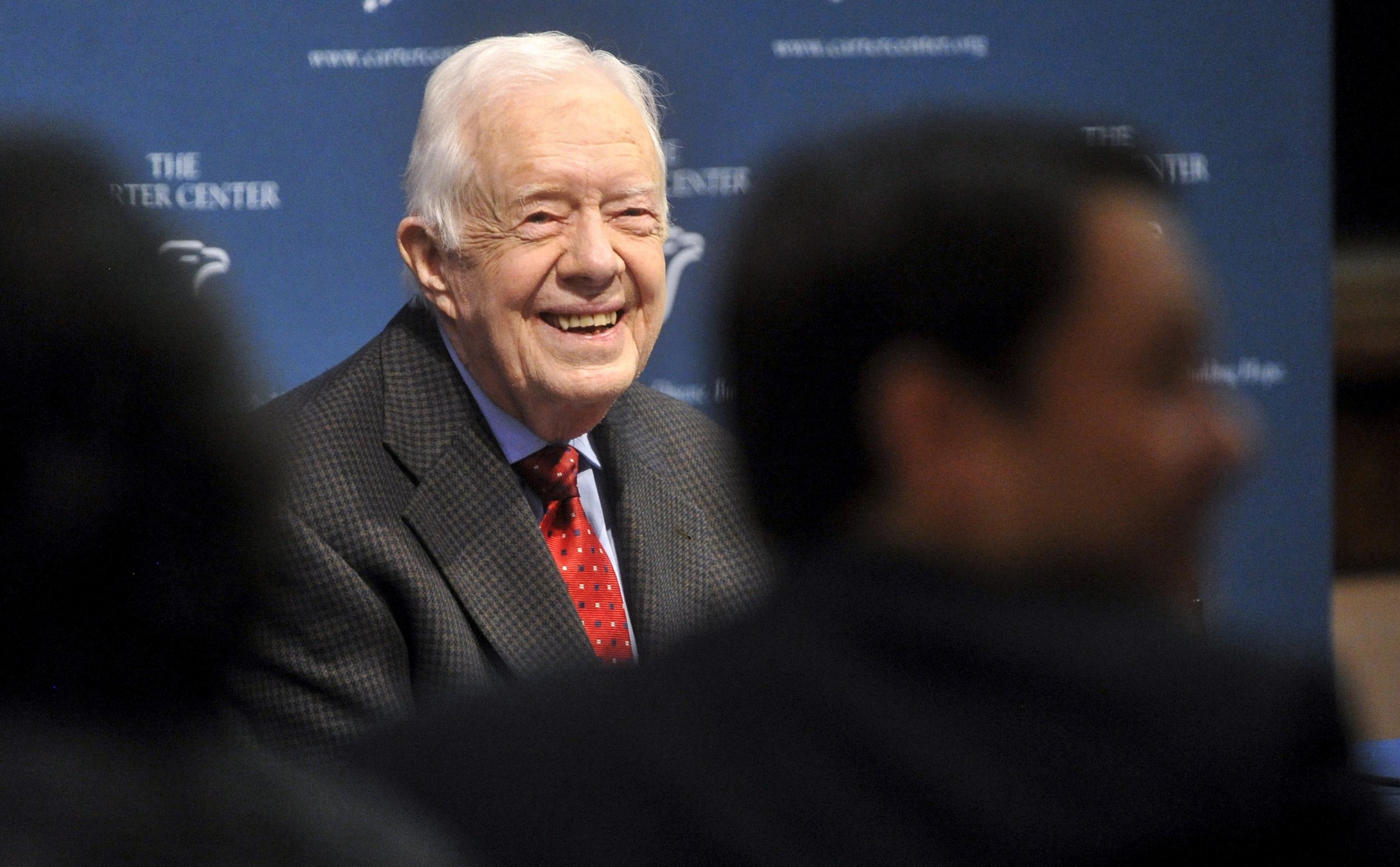 Appearing calm and often smiling, former President James "Jimmy" Carter told reporters on Thursday morning that he was "surprisingly at ease" when doctors diagnosed him with cancer earlier this month.
"I've had a wonderful life. I've got thousands of friends," Carter, 90, told reporters during a press conference from the Carter Center in Atlanta. "I'm ready for anything, and looking forward to a new adventure."
Carter, a Democrat who served as the 39th president from 1977 until 1981, said doctors removed one-tenth of his liver during an operation earlier this month and discovered melanoma in the sample. They also found the melanoma had traveled to four spots on his brain. He announced his diagnosis last week.
Following the liver operation, he said he hasn't felt any weakness. He did experience some pain in his right shoulder, but doctors assured him that is normal after liver surgery.
He said cancer is likely to show up in other spots in his body. "But now I feel this is in the hands of God," he added.
Carter said he will "fairly dramatically" cut back on his obligations to the Carter Center, his nonprofit established to fight disease, hunger and poverty around the world.
"I will continue to sign letters requesting contributions and making key calls," he said. "I can't really anticipate how I will be feeling, obviously."
The former president will begin radiation treatment on Thursday. Then he will have scheduled treatments at three-week intervals.
"I would say that the rest of my plans will be determined by my consultations with my doctors," he said. "The Carter Center is well prepared to continue on."
Carter said he was hoping to travel to Nepal in November for his annual service trip to build houses. But he said he won't be able to travel if the trip could interrupt his treatment regimen, adding that he is a cooperating patient.
He joked with reporters throughout the 30-minute press conference. When asked to reflect on his life, he told them he wished the helicopter mission to rescue the hostages being held in Iran from November 1979 until January 1981 had been successful and had secured him re-election. He lost the presidential election in 1980 to Republican Ronald Reagan.
To the sound of laughter, Carter told the audience he will continue teaching Sunday School each week for as long as possible, because people enjoy seeing a politician teach the Bible.
Before he was elected president, Carter served as governor of Georgia from 1971 until 1975. But the best thing he ever did, he said, was marrying his wife, Rosalynn, 69 years ago.
Carter said he has received well wishes from former presidents George H.W. Bush, George W. Bush and Bill Clinton. He said President Barack Obama, Vice President Joe Biden, Secretary of State John Kerry and Democratic presidential candidate Hillary Clinton were also among those who have reached out to him.
He said he hopes to inspire other patients battling the disease to fight it with hope and patience.
"I think," he added, "I have been as blessed as any human being of the world."