Unlimited Expense Accounts for Former Presidents? Not Anymore Under New Bill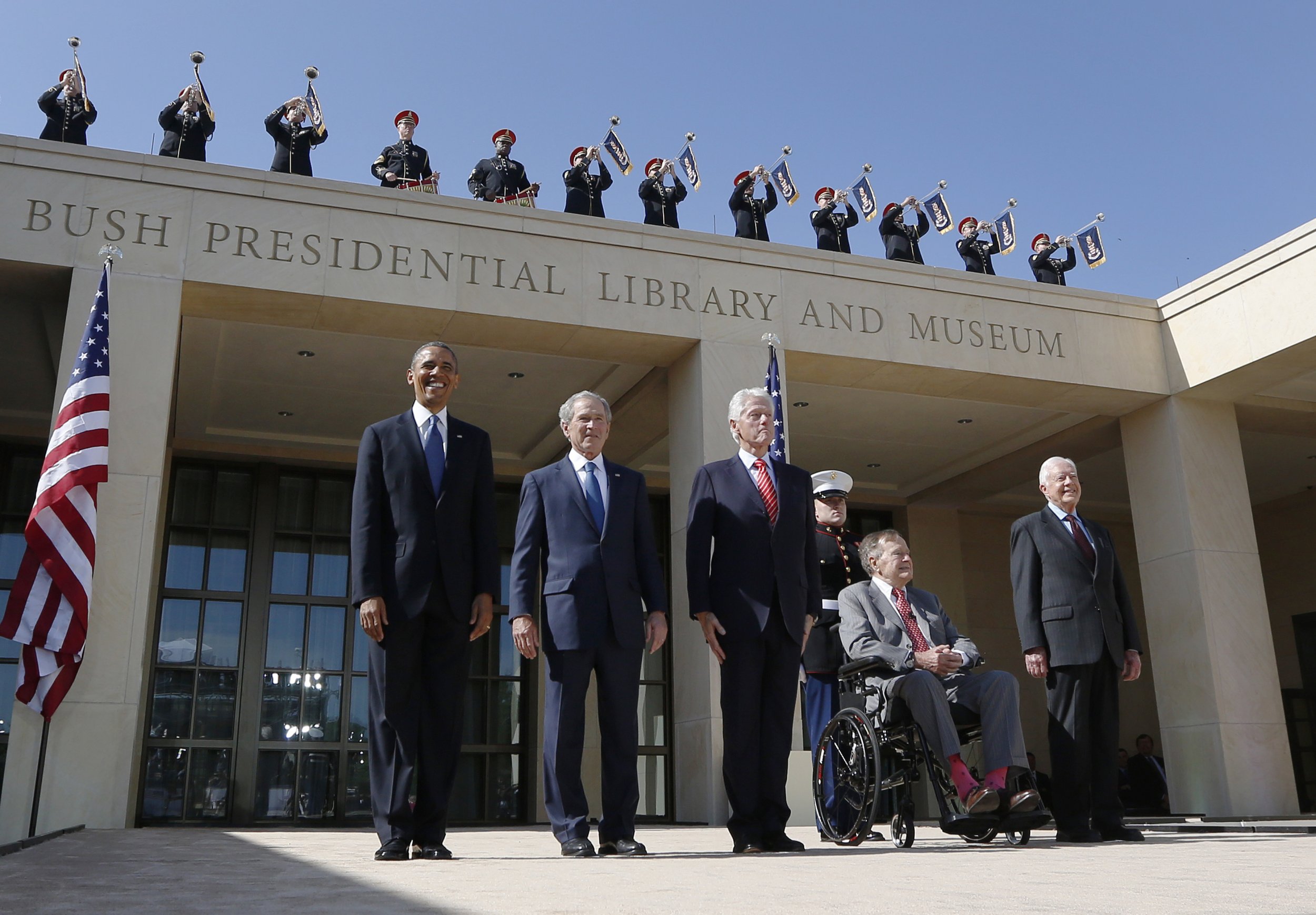 Former U.S. presidents would lose their "unlimited," taxpayer-funded work expense accounts after leaving office under a bill that's moving through the Senate.
Under the bill, which passed unanimously in the Senate Committee on Homeland Security and Governmental Affairs on Wednesday, former commanders in chief would retain a $200,000-per-year pension, but would have their work-related expense accounts initially capped at $500,000.
Expense account limits would gradually decrease over 10 years to $250,000.
"It is ridiculous to continue asking taxpayers to help foot the bill for former presidents' perks at a time when they already rake in millions of dollars from book deals, speaking engagements and more," the bill's author, Senator Joni Ernst (R-Iowa), said in a statement.
The federal General Services Administration does set parameters for presidential expenses, on a case-by-case basis, but Ernst called the allowances effectively "unlimited."
Her bill does not affect ex-presidential security costs.
Supporters say the goal is for taxpayers to no longer have to subsidize former leaders of the free world with already sufficient incomes.
"As president of the United States, you get a lot of perks even once you leave office," Senator Mike Enzi (R-Wyo.) told Newsweek. "Modern presidents can earn millions of dollars from book sales and speaking engagements...yet they still receive a generous taxpayer-funded pension." He co-sponsored the bill to reform what he called an "outdated" perk system.
Right now, presidents can use their expense accounts for personnel (which the bill limits to 13 people), office space, office furnishings, travel, phone bills and other work expenses. Their yearly pension matches the pay for Cabinet secretaries, which fluctuates. In the calendar year 2016, it was $205,700, according to the Congressional Research Service. Ernst's bill, officially known as The Presidential Allowance Modernization Act of 2017, would cap it at $200,000.
Jim McGrath, a spokesperson for former President George H.W. Bush, said that the taxpayer money former presidents get from the General Services Administration is "expressly limited and tightly controlled for official use only." As an example, he mentioned staff that work on military retirement letters constituents often request, and the charity campaigns former presidents run. But he and H.W. see the upsides of such a bill, he said.
"President Bush is a fiscal conservative and does not doubt the current law needs to be updated. He furthermore respects Congress's role in the spending of tax dollars," McGrath wrote in an email.
While they're in office, presidents get $400,000 per year, though they don't pay rent, and $50,000 for expenses. They do have to foot the bill for food, crews hired for private parties, clothes and other personal expenses, which the former first lady Laura Bush detailed in her 2010 memoir Spoken From the Heart.
Ernst tried to pass a similar bill in 2015, and it got unanimous approval in the House and Senate, but President Obama vetoed it.
Historically, the past few presidents have all gone on to create foundations, give paid speeches, consult and/or go on book tours. In September, President Obama made $400,000 for speaking on Wall Street, and CNN reported in 2015 that the Clintons got $153 million in speaking fees between 2001 and when Hillary Clinton launched her presidential campaign, in May 2015.
Presidents didn't earn pensions after they left office until 1958, when Congress passed the Former Presidents Act, at a time when former U.S. leaders didn't make as much in speaking fees and consulting. Back then, the only living ex-presidents were Presidents Hoover and Truman. Currently, there are five ex-presidents among us.
It's unclear if the bill's expense caps would affect President Donald Trump if it becomes law. Trump may decline his pension and expense account, given that he currently does not take his presidential salary (he donates to charities and gives back to the Treasury). The White House has not responded to requests for comment on Trump's plans for those funds.