Former Press Secretary Grisham Says It Was a Mistake to Work for Trump
Former press secretary Stephanie Grisham, who was one of former President Donald Trump's longest-serving advisers, says it was a mistake to work for him.
"I do believe [Trump] gave voice to a lot of people who did feel forgotten, but I think that many of us, myself included, got into that White House and got heavy with power and we didn't think about serving the country anymore," Grisham told ABC News' Good Morning America on Monday. "It was about surviving in there, and he loved it. He loved the chaos in there."
"It's bad, and obviously hindsight is 20/20. I have no illusions right now that people are going to suddenly think that I'm some hero, that's not what this is about," she added.
Grisham's new tell-all book I'll Take Your Questions Now is out this week, and it is the first to emerge about the administration from a former aide. Grisham notably managed to move from the Trump campaign into the White House, where she worked for almost the entirety of his presidency.
Asked by George Stephanopoulos whether or not it was a mistake to work for Trump, Grisham responded, "Yes."
"I was [enabling a culture of dishonesty in the White House]. I've reflected on that and I regret that," Grisham said. "Especially now when watching him, and so many people, push the false election narrative. I now want to, in whatever way I can, educate the public about the behaviors within the White House because it does look like he's going to try to run in 2024."
The former adviser said she's "terrified" of Trump running for president in the next election, saying, "I don't think he's fit for the job."
She said she didn't initially believe that the former president would want to run again in 2024, but seeing him as a front-runner in the GOP and the loyalty many Republican officials continue to pay him has made her realize it is a likely possibility.
"Once he takes office, if he were to win, he doesn't have to worry about reelection anymore. He will be about revenge. He will probably have some pretty draconian policies that go on," Grisham warned. "There were conversations a lot of times that people would say, 'That will be the second term.'"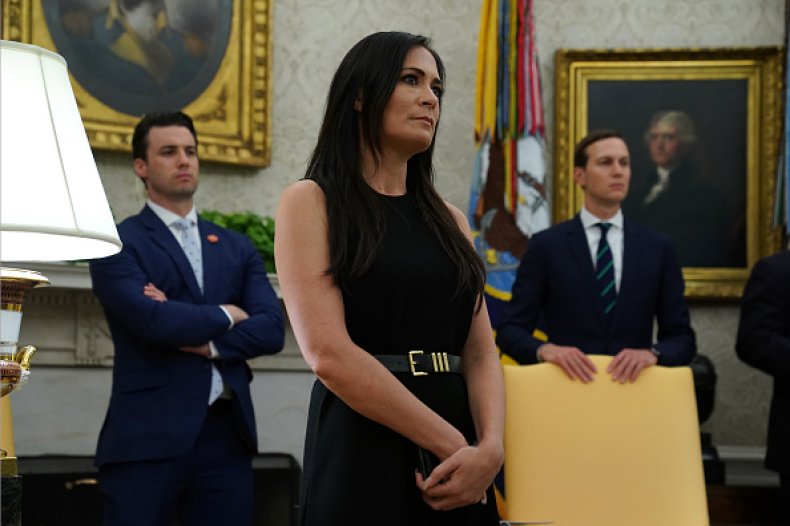 Former first lady Melania Trump, whom Grisham served as chief of staff under, has issued a statement in response to the publication of the former ally's book, calling Grisham a "deceitful and troubled individual."
"The author is desperately trying to rehabilitate her tarnished reputation by manipulating and distorting the truth about Mrs. Trump. Ms. Grisham is a deceitful and troubled individual who doesn't deserve anyone's trust," the statement reads.
Grisham said she expected this type of attack on her saying it is "right out of their playbook," but noted that no one has denied the claims in her book and added that she has "a lot of receipts to show that I'm being fully honest."
The former press secretary also expressed regret about both the administration's handling of COVID, which she said she believes cost many American lives, and her own handling of a younger female staffer whom, she writes, Trump had "behaved inappropriately" toward.
"I wish I would have spoken out more about COVID, about our response to COVID, about that first disastrous Oval Office address to the nation, which was not about COVID or educating our public. It was about having him look presidential for reelection," she said "I wish I would have told him he needs to wear a mask."
Grisham also said that she wasn't sure what to do to protect her subordinate, saying that "there's not an HR department at the White House" and that she wasn't comfortable telling former chief of staffer Mark Meadows about the situation.
"I did the best I could, in terms of never letting her be alone with [Trump] in the cabin. I tried to keep her off trips as often as I could. I did the best I could, I think, in that environment," she said.