Former Private Prison in New Mexico Could Be Reopened, Used to House Migrants
A private prison facility in New Mexico could reopen and be used as a center to house migrants who are waiting for the U.S. government to process their asylum claims.
A decision on the Torrance County Detention Facility, which closed in October 2017, is expected on Wednesday when the county commission members are set to vote on a contract with Immigration and Customs Enforcement (ICE) that would reopen the prison and allow it to be used to house approximately 700 adult male migrants, the Albuquerque Journal reported.
The prison, located in Estancia, would also house a number of local inmates, though the exact number is not known. They would be housed separately from the migrants, according to the Journal.
The prison has 900 beds, Torrance County Manager Wayne Johnson told the Journal, adding that when the prison closed in 2017, the local economy took a hit, since many people worked there.
"You looked up and you'd start to see businesses start to struggle and, in some cases, close, and that was a huge impact on the economic vitality of the area," Johnson told KOB-TV in April, adding that since the prison had closed, county deputies traveled three hours round-trip to deliver detainees to a jail in Santa Fe County. "It hasn't been easy on the county. Money that we might have used in other ways to hire additional EMTs or for public safety, in general, had to go to the transportation of handling prisoners."
If the commission elects to sign a contract with ICE, it is expected that the agency would pay Torrance County $2 million per month to operate the prison during its first year. The price would increase for subsequent years. According to the Journal, the contract states that ICE would pay a fixed rate for 714 migrants. Housing additional migrants would mean increased rates per person.
If the contract is signed between the county and ICE, Torrance County would then arrange a separate agreement with CoreCivic, the Nashville, Tennessee, company that owns the facility, to hire staff and run the prison.
"We welcome the jail reopening. We would work really hard to facilitate that," Johnson told KOB.
While Johnson said he welcomed the prison opening up again, some New Mexico lawmakers told the Journal they were not sold on the idea.
"For me personally, it's really concerning that they're considering reopening it. I'm completely opposed to private prisons. They should not exist in our state," state Representative Angelica Rubio said.
If the prison does reopen, it would be New Mexico's third private prison to be reused to house migrants as thousands of people await entry along the U.S. border or choose to cross into the country illegally from Mexico. Last month, U.S. Customs and Border Patrol agents saw 98,977 migrants apprehended at the border, up from 92,831 in March and 66,883 in February.
The Cibola County Correctional Center in Milan and the Otero County Processing Center in Chaparral are the other privately owned prisons housing migrants in the state. The Cibola County facility made headlines in April after Nicole Garcia Aguilar, a transgender migrant from Honduras, was held in ICE custody for six months and was reportedly released with no paperwork, prompting another arrest when she presented herself at the El Paso, Texas, processing center to be given the documents.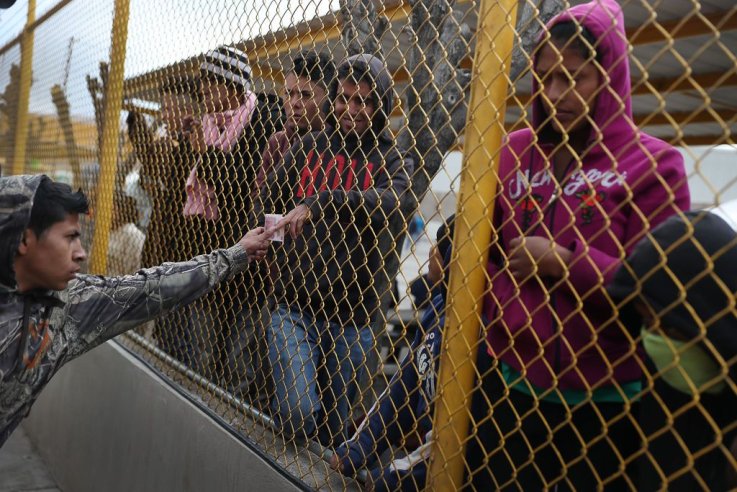 Former Private Prison in New Mexico Could Be Reopened, Used to House Migrants | U.S.