Former 'Real Housewife' Claudia Jordan Says Lil Pump Hasn't Always Been a Trump Supporter
It seems that Lil Pump may not have always been a fan of President Donald Trump. On Thursday morning, former Real Housewife of Atlanta Claudia Jordan shared a tweet from the rapper apparently dated to Election Day 2016.
"Once again.... there is literally a tweet for everything," she wrote. "This was Lil Pump aka Lil Pimp BEFORE he got the bag. OK. I'm done. Who really gives AF what this lil dude thinks. VOTE!"
The tweet, which has been caught in a screenshot, looks to be from November 8, 2016, and simply reads "F*** DONALD TRUMP." It appears that the tweet has been deleted.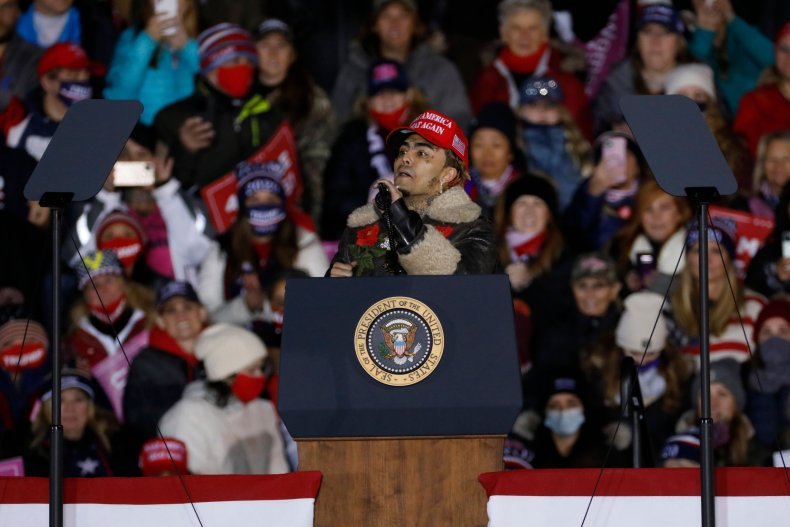 On Monday evening during a rally in Grand Rapids, Michigan, the president brought Lil Pump, whose real name is Gazzy Garcia, on stage with him. When introducing him to the crowd, Trump fumbled the rapper's name.
"I love your sound, I love your music. And speaking of sound and music and other things—one of the biggest superstars in the world: Lil Pimp!" he shouted, before adding: "There he is. You wanna come up here and say something? Lil Pump? Does everyone know who he is? You know how big he is? Come up here, that's a nice hat."
Lil Pump wore a red MAGA hat and fur-lined bomber jacket for his appearance.
"Hello, everybody, how you guys feeling?" the 20-year-old rapper said, greeting the crowd. "I've come here to say, Mr. President, I appreciate everything you have done for our country. You brought the troops home and are doing the right thing. MAGA 2020, don't forget that!" Additionally, Lil Pump told the crowd not to vote for Trump's campaign rival, Democratic candidate Joe Biden.
A video on Twitter shows that Lil Pump was also handing out MAGA hats to the crowd.
Lil Pump also posted a video to Instagram on October 26, in which he criticized Biden's tax plan.
"All I gotta say is Trump 2020 b****" Pump said in the clip. "F*** I look like paying an extra 33 in tax for Biden."
Lil Pump is one of several celebrities who said they are voting for Trump this election, along with Waka Flocka Flame, Kirstie Alley, Lil Wayne and Kid Rock.
Jordan, meanwhile, has been vocal about her political preference this election cycle. Recently, she shared a photo of herself posing alongside a campaign poster promoting Biden and his running mate, Senator Kamala Harris, and another photo of her at a campaign event featuring Harris.
Of course, Jordan also has her own history with Trump—she previously appeared on Celebrity Apprentice, in the show's second and sixth seasons. She recalled her time with Trump while on the podcast Behind the Velvet Rope With David Yontef last month. Jordan theorized how she believes Trump values people, and said it has to do with physical appearance.
"I think Trump judges people by looks, weight. He made comments to me when I was doing Celebrity Apprentice. Like, I know he values people based on those types of things," she said, via ET Canada. "And I know that sounds like a f**ked up thing for me to say but it's true. He does. He values people based on how thin they are, how attractive they are, if they're rich."