Former Republican Party Chair Says Trump Trying to 'Hijack' Election After Endorsing Joe Biden
Michael Steele, the former chair of the Republican National Committee, said that President Donald Trump is trying to "hijack" the upcoming November election after joining the anti-Trump group the Lincoln Project last week and formally throwing his support behind Democratic presidential candidate Joe Biden.
The ex-GOP chair, the first Black American to serve in that role, penned an op-ed published by The Hill on Monday, urging Republicans to restore "the party of Lincoln."
"In a life spent advancing Republican principles, I had the privilege to do so when it was not particularly easy. But I saw an opportunity to grow those Republican principles in a new way, to go a bit against the grain, to push back on the 'establishment' mindset within the party and the stereotyped view of a Black Republican outside of it," Steele, who served as the RNC chair from 2009 to 2011, wrote.
"No one can question my credentials as a Republican," Steele asserted. He said that Trump had transformed the GOP "into a cult of personality" and that the president "traffics in conspiracies, fear, racism, xenophobia, misogyny, and believes that he can rewrite the Constitution in his own image."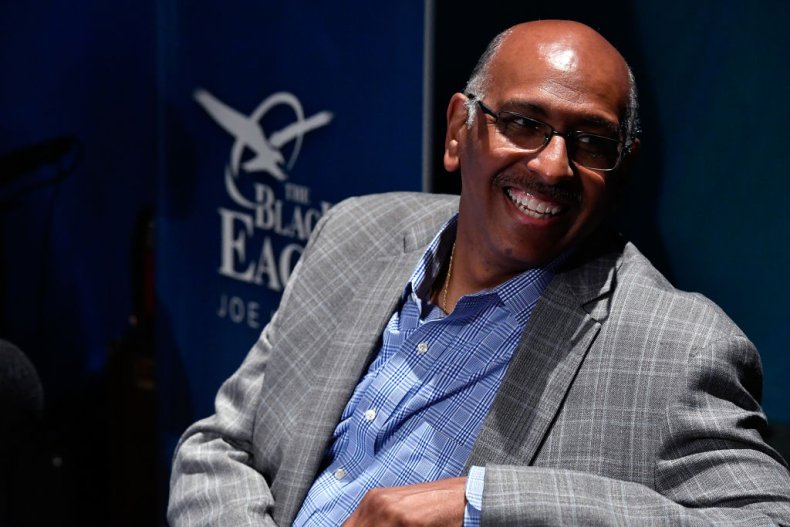 "It matters when the president engages in efforts to hijack the election, weaken our franchise, and deal a fatal blow to the experiment that has been the American experience," Steele wrote.
In a statement emailed to Newsweek, Tim Murtaugh, director of communications for Trump's reelection campaign, dismissed Steele's criticism.
"Joe Biden has been a failure in the Washington Swamp for a half century, so no one should be surprised when Swamp creatures gather to protect one of their own. President Trump has unprecedented support—over 95 percent—among real Republican voters and is also making strong inroads in Biden's core Democrat constituencies, like Black Americans, Latinos, and union members," Murtaugh said.
Newsweek reached out to the RNC for comment, but it did not respond by the time of publication.
Speaking to MSNBC in an interview on August 24, Steele said that true Republicans "believe in something other than one man" and that he "will be damned" if he is "going to cede that ground to Donald Trump who is not now nor has he ever been a Republican." The former GOP chair has been a staunch Trump critic since the 2016 presidential election.
The Lincoln Project, which Steele formally joined last week, is a coalition of current and former Republicans opposed to Trump and his reelection. The group has released a series of ads opposing Trump and GOP lawmakers loyal to the president.
"The priority for all patriotic Americans must be a shared fidelity to the Constitution and a commitment to defeat those candidates who have abandoned their constitutional oaths, regardless of party," the group's website says. "Electing Democrats who support the Constitution over Republicans who do not is a worthy effort."