Uranium and other contaminants fell into the Detroit River last month when a site where nuclear material was created during the 1940s and 1950s partially collapsed, according to the Detroit Free Press.
Known as the Detroit Dock, the area gave way before Thanksgiving weekend, spilling chemicals upstream from a section of the river from which Detroit gets drinking water.
Michigan's Department of Environment, Great Lakes and Energy (EGLE) issued a statement saying they did not believe there was any danger.
"EGLE is aware that the site was previously used to process uranium and there is no evidence to suggest that there is a current radiological risk," the statement said. "EGLE has no reason to believe PCBs or other contaminants from the site are a hazard to the public or the environment. However, EGLE intends to continue investigating potential impacts as part of its assessment of the incident."
EGLE also said they would include "evaluating information" about the potential presence of contaminants.
"Among that information will be samples collected this past spring by EGLE's Materials Management Division," said a statement, "that showed no evidence of uranium or thorium above natural background levels in samples from the Detroit River."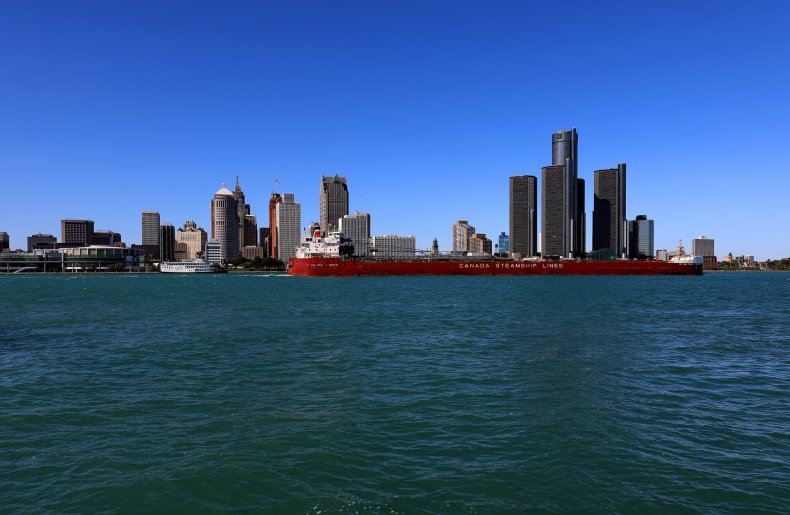 In a statement, the City of Detroit said they had been in "close communication" with EGLE.
"We will continue to stay in close communication with EGLE as it continues its investigation," the statement said.
Due to the potential environmental impact on the Great Lakes and the nearby city of Windsor, Canada, New Democratic Party member Brian Masse of the Canadian Parliament believes the incident should be investigated by the International Joint Commission and the governments of the U.S. and Canada.
"An immediate study should be conducted on the dangers presented to the Detroit waterways and Great Lakes region," said Masse in a statement. "Forty million people use the Great Lakes for drinking water, and the ecosystem is already fragile. Any potential threat should be investigated immediately on both sides of the border."
Revere Copper and Brass is the former owner of the site. During the Manhattan Project, the area was used to help construct the atomic bomb. After World War II and into the 1950s, the area was used to construct uranium rods. In 1989, after the plant had been closed for five years, it was demolished.
While the Environmental Protection Agency (EPA) listed the Detroit River as an "area of concern" in 1987, restoration projects are ongoing. Attempts to improve the habitat for fish, including wetlands and spawning areas for lake sturgeon, have resulted in "significant progress," according to Great Lakes Now.
It is the removal of toxic sediment that is still taking time, with the EPA estimating nearly three to four million cubic yards of it existing in the river.
Uncommon Knowledge
Newsweek is committed to challenging conventional wisdom and finding connections in the search for common ground.
Newsweek is committed to challenging conventional wisdom and finding connections in the search for common ground.