Former RNC Chair Michael Steele Takes Swipe at Trump, Eats Paper on Air
A former Republican National Committee chair ridiculed Donald Trump by eating paper on live TV following reports that the former president flushed documents down the toilet while in office.
Michael Steele was asked during a Thursday appearance on MSNBC's The ReidOut about reports that Trump had destroyed classified documents while in office.
"Well, first, could you pass the salt?" Steele, an MSNBC political analyst, responded to host Joy Reid. He then placed a piece of paper in his mouth. "Yummy, yummy," continued Steele. "Pass the salt, please."
"I'm stupid!" he exclaimed.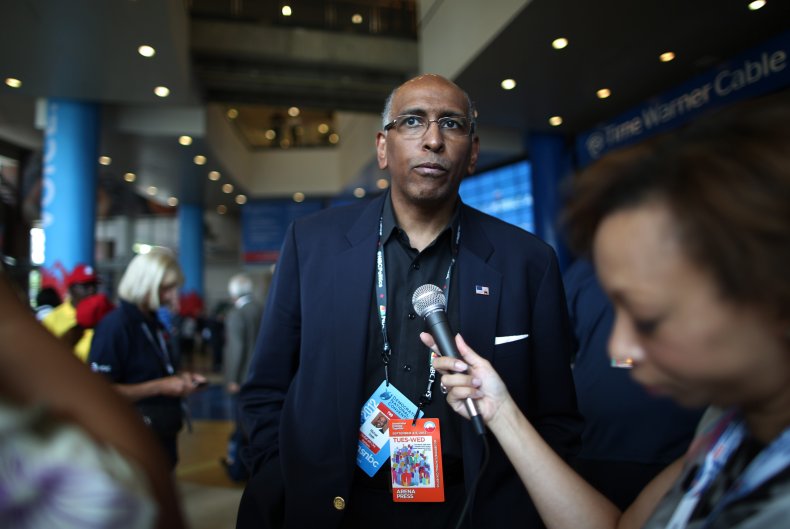 Steele made the remarks in response to reporting in Confidence Man, an upcoming book by New York Times White House correspondent Maggie Haberman, that Trump destroyed documents while in office in violation of the Presidential Records Act. According to Haberman's reporting, administration staff found pieces of paper in toilets from documents they suspect Trump of attempting to flush.
Trump routinely ripped up a range of documents including briefings and schedules, articles, letters and memos, according to The Washington Post.
"It is absolutely a violation of the [Presidential Records Act]," Courtney Chartier, president of the Society of American Archivists, told the Post. "There is no ignorance of these laws. There are White House manuals about the maintenance of these records."
Omarosa Manigault Newman, a former Trump White House staffer, said on MSNBC earlier this week that Trump "loved to tear up those documents," and would even chew on some. She said these documents included information he did not want to be brought to light, and that his chewing behavior was very strange for a famous germaphobe.
Reports of Trump mishandling sensitive documents have drawn comparisons to treatment of 2016 Democratic presidential candidate Hillary Clinton, who faced an FBI investigation for using a private server for emails while serving as secretary of state.
While Clinton was never charged, the scandal around her emails haunted her throughout the 2016 race.
Steele said the recent reporting is part of a pattern around Trump, who is also alleged to have used a private unsecured phone while serving as president, that show he doesn't take security seriously.
Steele said allegations against Trump should put the matter of Clinton's email to rest.
"As for Hillary Clinton and her emails, I don't want to hear another word, not a damn word, from anybody, talking about Hillary Clinton and national security and her server," Steele said. "After this son of a you-know-who is sitting up there eating documents, please!"
Newsweek has reached out to Trump's office for a response.