Ex-Russian Official Predicts an Attack on Moscow Is 'Bound to Happen'
During a recent broadcast on Russian state TV, a former top Russian official predicted that an attack on Moscow by Ukraine or its allies is inevitable.
Andrei Fedorov, a former deputy foreign minister of Russia and ex-adviser to both the prime minister and vice president of Russia, made the prediction during a panel hosted by foreign policy analyst Maxim Yusin on the Russian channel HTB.
The topic being discussed was Western countries supplying fighter jets to Ukrainian President Volodymyr Zelensky's military. Another panelist asked Fedorov if such weapons would constitute the crossing of Russian President Vladimir Putin's "red lines" that would cause him to escalate the conflict.
Fedorov replied that giving jets to Ukraine was not one of Russia's red lines. When asked if he knew what those lines were for the Kremlin, Fedorov replied: "I do, yes."
He was then asked to name some of Putin's red lines.
"It's a strike on the command centers in Moscow," he said.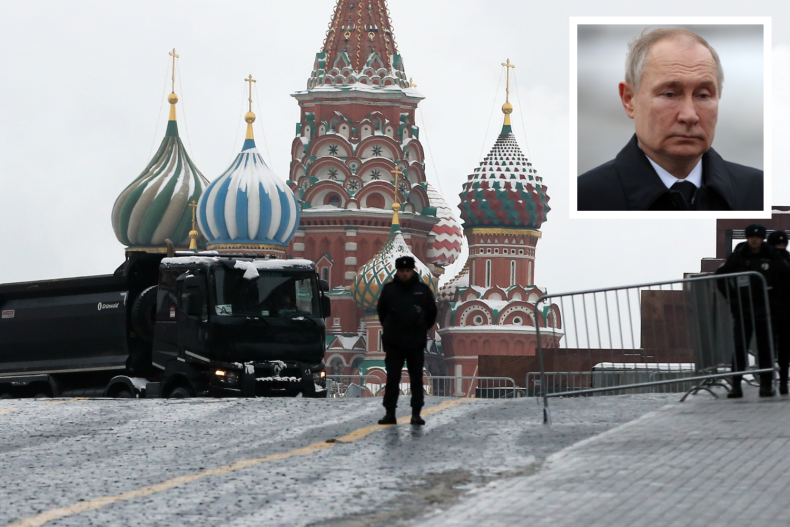 He was questioned if he meant to say an "attempted strike."
"A strike, not an attempt. The strike that's bound to happen, it's going to be a red line," Fedorov said.
A clip of the exchange was shared on Twitter by Anton Gerashchenko, who serves as an adviser to the minister of internal affairs of Ukraine.
The bold forecast was not the first time Fedorov has made such a statement in regard to a possible attack on Moscow. Following the late September recapture of Lyman—a Ukrainian city in the Donetsk region—he and other pundits on Yusin's HTB show expressed surprise at the strength of Zelensky's forces.
Journalist Julia Davis, founder of the Russian Media Monitor, posted a clip of Fedorov's reaction to Lyman's liberation on October 1, 2022.
"Radical changes are taking place because Russia occupied, or rather they say, annexed these areas and for that reason, Ukraine is starting a war to liberate these territories," Fedorov said. "Not some kind of special operation, but a war."
He followed up by saying the Ukrainian military could next strike deep into Russian territory.
When asked whether Moscow could be the target of such a strike, Fedorov responded: "Yes, of course."
Some reports suggest the Kremlin may already be preparing for a strike on Moscow. In January, pictures and videos circulated on social media of what users said were Pantsir-S1 air defense systems placed on the rooftops of several Moscow buildings.
Around the same time, Kremlin spokesman Dmitry Peskov warned of escalation in Ukraine if the West provided Kyiv with long-range weapons capable of striking inside of Russia's borders.
Newsweek reached out to Russia's Foreign Affairs Ministry for comment.