Former Senator Mike Enzi Suffers Broken Neck, Ribs in Bike Accident
Former Wyoming Senator Mike Enzi, who retired a little more than six months ago, has been hospitalized reportedly with a broken neck and some broken ribs from a bicycle accident near his home last weekend. The severity of his neck injury, or level of that injury, is unknown for now.
Enzi, 77, was first seen lying in a roadway by a passerby, about the same time as his Apple Watch sent a distress signal for a hard fall.
First responders arrived at the scene in Gillette, Wyoming, to find the former senator unresponsive. He was taken to a local hospital, where he was stabilized before getting airlifted to a hospital in Loveland, Colorado, according to the family.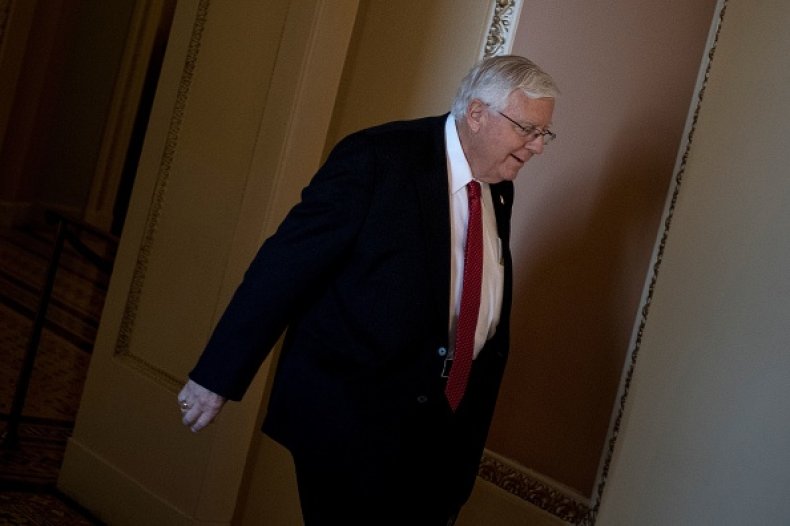 Police in Gillette haven't talked to any witnesses who saw the accident, according to the Associated Press. The police department is still investigating to determine if it was a single-bike incident or if it was caused outside his control.
Enzi's condition at the UCHealth Medical Center of the Rockies is still unknown for now as officials at the hospital haven't released details, nor has his family by Monday night.
His long path in politics began with becoming mayor of Gillette, and then a state legislator and eventual four-term U.S. Senator. He retired in January 2021 after Cynthia Lummis was elected in November 2020 to replace him.
U.S. Senate Minority Leader Mitch McConnell issued a statement saying members of both parties are "praying for his health" and for the entire family.
"I know members on both sides are very much thinking of Mike at this time. We are praying for his health and for the entire Enzi family," McConnell said.
Enzi's bicycle accident happened just one day after the death of New York Jets assistant coach Greg Knapp died from a California bike accident from the previous weekend. Knapp was in critical condition for five days after his accident.
"One of the best basketball fans in the country needs giant prayers tonight after a bike wreck and life flight last night," Brad Enzi, one of the senator's sons, said in a tweet. "Also happens to be my GOAT Dad. Any and all prayers and thoughts accepted no denomination or creed preferred. Just lift him up!"
A broken neck, as reported for Enzi's accident, can depend upon the severity and location of the break, and how quickly medical personnel can attend to the patient.
This is a developing story.