Sacha Baron Cohen's 'Who is America' Canceled? Sheriff Joe Arpaio Wonders if Actor Has 'Guts' To Interview Him Again
Sacha Baron Cohen's controversial television show, Who Is America?, will reportedly not return to television for a second season and former Maricopa County Sheriff Joe Arpaio celebrated the news.
Cohen told The Hollywood Reporter that there would not be a second season, citing the inability to get politicians to once again "bare his buttocks while screaming 'God bless America!' and screaming the N-word." He added that he doesn't have other characters ready for a second season and that the hours-long makeup process to get into his disguises was "grueling."
The Showtime show featured Cohen in a series of disguises interviewing prominent political figures who often ended up saying and doing bizarre things. Arpaio's episode aired in August, during which time he was running for the Republican Senate nomination in Arizona.
Following the news of Cohen's show not returning for a second season, Arpaio wrote on Twitter that it was "great!" that the show was cancelled.
Newsweek subscription offers >
"Will not forget his degrading, low life interview of me, which played numerous times during my U.S. Senate campaign," Arpaio wrote. "Wonder if he has guts to interview me again man to man in English, if he can get away from his court hearings."
Newsweek subscription offers >
Showtime declined to comment to The Hollywood Reporter about whether the show would return for a second season, but by Cohen's account, the decision not to return to television wasn't the result of the network cancelling it.
In August, Showtime CEO David Nevins praised the show and said he was "dying" to bring it back during an interview with The Hollywood Reporter. He explained that the controversy surrounding the show was "helpful" and likened Cohen's comedic talent to Daniel Day-Lewis's talent in acting.
Arpaio was one of many political figures that got duped into having inane and absurd on-camera conversations. A staunch supporter of the Second Amendment and people having access to firearms, the former sheriff had a gun control debate with a plastic donut.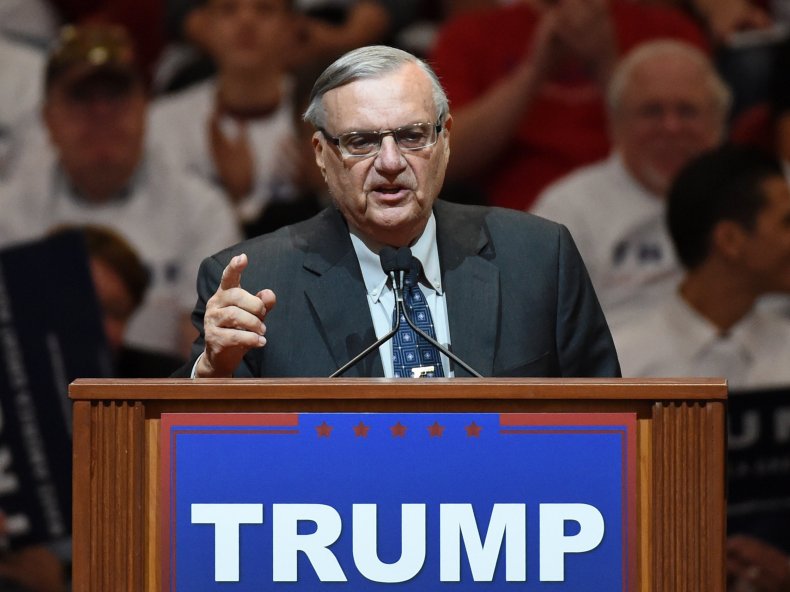 During the interview, Cohen, disguised as a Finnish TV host named OMGWhizzBoyOMG, also asked Arpaio a series of questions about President Donald Trump, including if ever thought the president engaged in the sexual act commonly referred to as a golden shower.
"Wouldn't surprise me," Arpaio responded, although he later clarified that he thought Cohen meant a shower made out of gold.
The conversation continued in a sexual direction and Arpaio said he "may have to say yes" if Trump offered him an "amazing blowjob."
Following the airing of his episode, Arpaio told The Arizona Republic that the show wasn't a personification about America. While he wasn't a fan of the show, he credited Cohen for revealing "one good thing," which was that Apraio supported the president.
Sacha Baron Cohen's 'Who is America' Canceled? Sheriff Joe Arpaio Wonders if Actor Has 'Guts' To Interview Him Again | U.S.