Former Soldiers Imprisoned for 1973 Killing of Singer Have Their Sentences Increased
A Chilean court announced Tuesday it would increase the prison sentences of seven people convicted of kidnapping, torturing and murdering folk singer Víctor Jara in 1973.
The Associated Press reported that the Court of Appeals decided that six former soldiers involved in the killing should spend 25 years in prison rather than 18, and a seventh veteran should serve eight years instead of five. They were convicted in 2018.
Jara, a popular musician and university professor, was targeted for being an ardent supporter of Marxist President Salvador Allende. On September 11, 1973, Allende's government was overthrown by a military coup led by General Augusto Pinochet. Jara was taken only hours after Pinochet took power.
The singer, along with about 5,000 other Allende supporters, was brought to a sports stadium in Santiago that was being used as a detention center.
According to the BBC, Jara wrote his final song, "Estadio Chile," in that stadium, where he was tortured. He wrote the lyrics "How hard it is to sing when I must sing of horror/ Horror which I am living, horror which I am dying."
Two hours later, he was fatally shot, his body riddled with at least 44 machine-gun bullets.
The appeals court said the original judges had mistakenly classified the crime as less serious than it was, leading them to make up for it by lengthening the sentences.
For more reporting from the Associated Press, see below.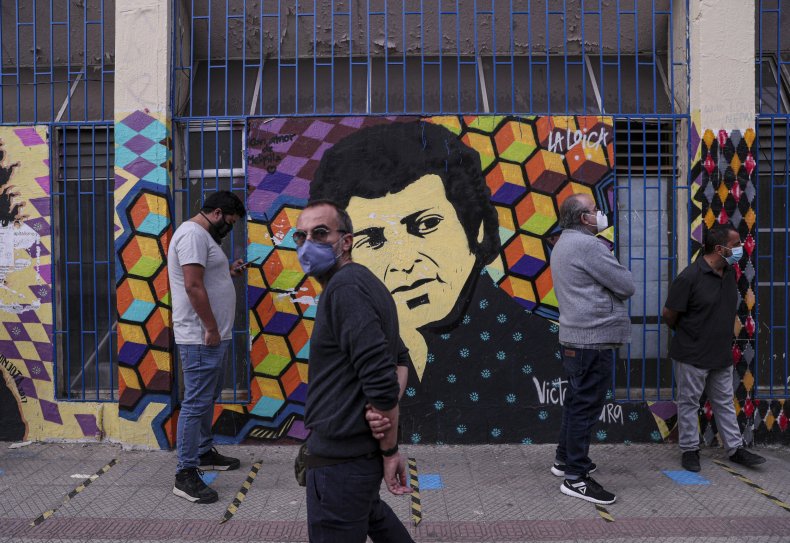 The court said the treatment of the victims was "demonstrative of the mindlessness and visceral hatred" aroused against them.
The case also involved Allende's prisons chief Littré Quiroga, who also was tortured and killed at the stadium, apparently because of alleged mistreatment of an officer who had earlier attempted a coup.
"This ruling is important as well because it now definitively overcomes the impunity that was shown toward these crimes for so many years," said Nelson Caucoto, attorney for Jara's family.
The court said that while under arrest, Jara was seen "visibly deteriorated, physically and mentally, with his face swollen with innumerable bruises, hands bloodied and deformed, the fingers evidently were broken or fractured."
In all, the judges said, Jara had 56 bone fractures in addition to the 44 bullet wounds. Quiroga had been shot 23 times.
The bodies of the two men were dumped on a dusty street near the Metropolitan Cemetery and were later taken to the morgue, where someone recognized Jara and secretly informed his wife, the British dancer Joan Turner Jara.
The family managed to have his body exhumed for an autopsy in 2009.
Official investigations count more than 3,000 people killed by the 17-year military regime,
The stadium where Jara was killed has since been renamed in his honor.