Trump vs. Brennan: Ex CIA Chief Stands by Claim U.S. President Is 'Treasonous'
The former director of the U.S. Central Intelligence Agency said Sunday that he stood by his belief that President Donald Trump had demonstrated "treasonous" behavior.
John Brennan caused ripples in Washington, D.C., this week after he wrote in a New York Times op-ed that Trump's claims of "no collusion" were "hogwash." The former intelligence chief said that Trump's decision to revoke his security clearance was "politically motivated," because he had spoken out against the administration, and an "attempt to scare into silence others who might dare to challenge him."
On Sunday, Brennan said during an interview on NBC's Meet the Press that he did not regret his comments, noting that he was mulling over legal action against Trump for the security clearance removal. He indicated that court action might help to prevent similar moves against other U.S. intellligence officials.
"I stand very much by that [treason] claim," he said, adding: "I think these are abnormal times. Maybe its my training as an intelligence professional. I have seen the lights blinking red in terms of what Mr. Trump has done and is doing. [He] is bringing this county down on a global stage.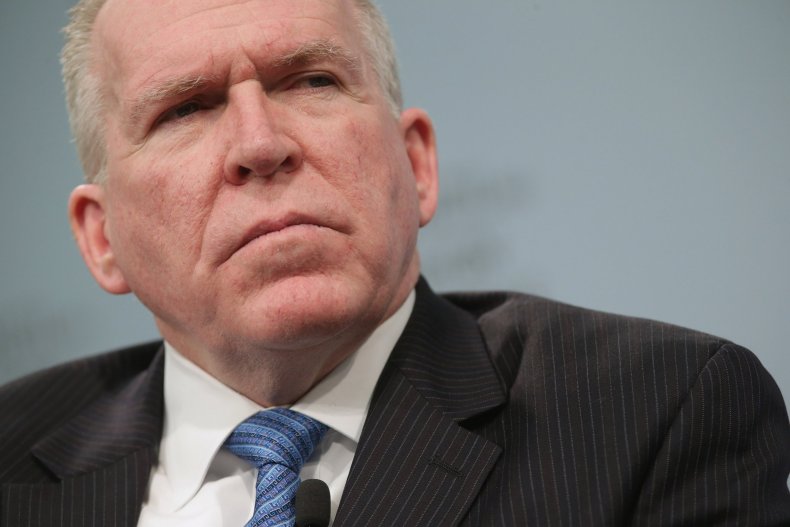 "He continually lies to the American people. I think I need to speak out. I have been speaking out rather forcefully because I believe its important to do so. I don't believe [it's] political."
The former CIA director made the initial treason comment on Twitter following Trump's meeting with Russian President Vladimir Putin in Helsinki earlier this year.
Brennan, referring to some of the backlash he had received for his collusion comments this week, told host Chuck Todd there was a significant difference between collusion and conspiracy.
"It is going to be up to Robert Mueller to decide if any of this rises to the level of conspiracy," he said. "Whether or not Donald Trump had any intimate knowledge of this. What I am saying is that there is collusion that took pace between American individuals and Russians. Whether or not this is going to trigger some criminal indictment is something else entirely. I have never put forth any thoughts on conspiracy. But collusion? I don't think Trump has made a secret of it."
The president hit out against Brennan on Saturday via his Twitter profile. "Has anyone looked at the mistakes that John Brennan made while serving as CIA Director?" Trump wrote. "He will go down as easily the WORST in history & since getting out, he has become nothing less than a loudmouth, partisan, political hack who cannot be trusted with the secrets to our country!"
Senator Richard Burr, chairman of the Senate Select Committee on Intelligence, also hit back at Brennan's collusion comments on Friday.
"If director Brennan's statement is based on intelligence he received while still leading the CIA, why didn't he include it in the Intelligence Community Assessment released in 2017?" Burr said in a statement.
"If his statement is based on intelligence he has seen since leaving office, it constitutes an intelligence breach. If [Brennan's] statement is purely political and based on conjecture, the president has full authority to revoke his security clearance as head of the Executive Branch."
The move of revoking security clearances has caused debate in the intelligence community.
Former CIA director Leon Panetta said in a CBS interview Sunday that Trump may not have had the authority to enforce such a decision. His comments were reported by The Hill.
"I think there are questions raised as to whether or not this president has followed the executive order, and whether or not he's provided due process to those that are going to have their security clearances provoked," Panetta said, later adding: "This president is not above the law."
But also on Sunday, national security adviser John Bolton suggested that the security clearance may have been revoked legitimately, which implied there was classified information that might confirm a connection between the Trump campaign and Russia.
"A number of people have commented that he couldn't be in the position he's in, of criticizing President Trump and his so-called collusion with Russia, unless he did use classified information," he told ABC in an interview.
Bolton, however, could not give specific examples of misuse.