Former State Senate Candidate Asked Facebook Friend to Delete Video of Him at Capitol Riot
More than six months after the Capitol riot, authorities have arrested a former New York state senate candidate, who is accused of entering the Capitol building and then trying to cover up his involvement.
On Wednesday, the FBI in New York arrested Daniel Christmann, who months earlier had made a bid for the New York State Senate. Prosecutors allege that Christmann made threatening remarks and entered the Capitol during the January 6 insurrection and if convicted, he faces years in prison.
He was charged with knowingly entering a restricted building or grounds, disorderly conduct in a restricted building and a Capitol building, as well as, parading, demonstrating or picketing in a Capitol building.
Officials received tips from three different people about Christmann, who provided authorities with posts he reportedly made on Instagram. One video showed what appeared to be a room inside the Capitol and the view from a window that overlooked an exterior plaza or terrace. Two other screenshots of videos showed what appeared to be the main corridor on the first floor of the building.
Other video footage Christmann allegedly posted on his account depicted a man, who authorities said was not the defendant, shouting "We want Nancy ... We want the rest of them." Authorities believe it's a reference to Speaker of the House Nancy Pelosi and other lawmakers.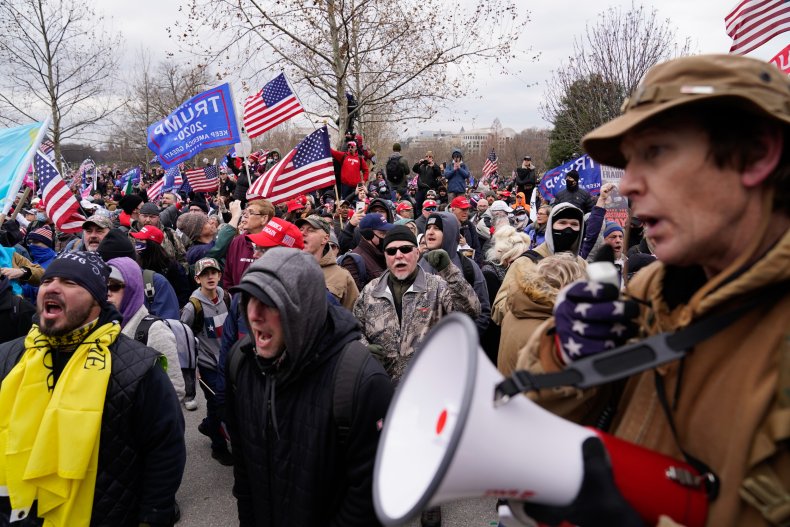 Video surveillance from the Capitol has played an integral role in authorities apprehending those involved and building their case for those that are going to trial. According to court documents, Christmann was allegedly captured in multiple video frames climbing through a window into the Capitol.
When Christmann was asked if he "stormed the Capitol," he said, "Yeah I'm not going to lie," according to a conversation he had with someone on Instagram. He added that he wasn't "one of the first people in," but said he was "scaling walls and sh--" once he "realized what was happening." Christmann reportedly gained entry to the Capitol by climbing up the wall on a garden hose.
He also confirmed to another person he was inside the building, responding to an Instagram message, "How could I not?"
Authorities have vowed to continue pursuing those who participated in the Capitol riot until everyone is held accountable. Christmann is the latest of hundreds of people to be arrested and charged. Two people have already been sentenced in connection with the Capitol riot and several others accepted plea deals, which could play to prosecutors' favor.
Christmann has made multiple runs for public office, including as the Libertarian candidate for president of the United States and the New York State Senate. However, he failed in both attempts, falling well short of the support needed to appear as a Libertarian on the presidential ballot and in November lost to incumbent State Senator Julia Salazar, garnering only 2.3 percent of the vote after creating his own party called the New Moderate Party. He also appears to be making a bid for New York City Council in an effort to represent District 34.
He advocated for splitting the state of New York, calling places upstate like Albany out of touch with life in New York City and criticized the level of tax on marijuana sales and other aspects of the recently passed marijuana law.
Having seen several other people be arrested for the Capitol riot, Christmann allegedly sent a message to someone on Facebook telling them to "delete" videos, noting that his friend Jake and campaign manager got "taken in."
"It's go-time on the end of times," Christmann added, according to court records.
Newsweek reached out to Christmann for comment but did not receive a response in time for publication.
This article has been updated to clarify that Christmann did not run as a Libertarian in the New York State Senate race.