Former Supermodel Cheryl Tiegs Slammed for Comments on Curvy Sports Illustrated Swimsuit Cover Model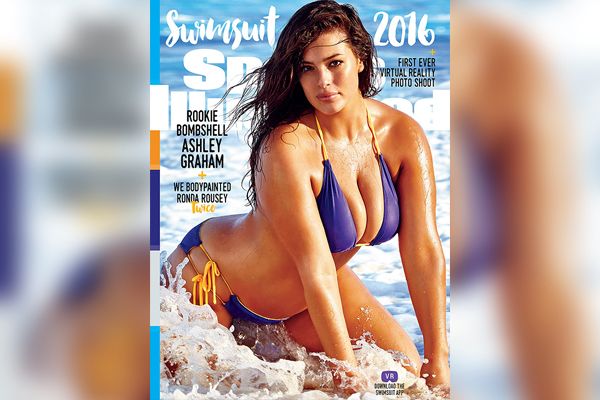 Sports Illustrated revealed its 2016 swimsuit issue earlier this month with two firsts for the annual book: This is the first year it has ever created three different covers with three different cover models, and the first time one of its swimsuit covers featured a "plus-size" model. When Ashley Graham—who recently told Ellen DeGeneres she preferred "curvasexalicious" to the term "plus-sized"—saw herself on the front of one of the glossies, she was floored.
"This cover is for every woman who felt like she wasn't beautiful enough because of her size," she wrote in an Instagram post. "You can do and achieve anything you put your mind to."
The post garnered more than 100,000 likes and mostly positive comments. One commenter said, "Everyone does not like twigs!!! Also note that skeletons with skin pulled over it ain't sexy...." Another wrote, "You are so beautiful. You actually look healthy."
Lindsey Vonn, an Olympic gold-medal winning skier who also posed for this year's swimsuit issue, in body paint, has lauded the magazine's decision to feature women with different kinds of bodies. "It's showing that strong, athletic women can be beautiful and it's not just skinny models," she said. "There's a lot of different body types in this world, and everyone is beautiful in their own way."
But on Wednesday, former supermodel Cheryl Tiegs told E! News at a pre-Oscar party that she was against featuring Graham on the swimsuit cover. "I don't like that we're talking about full-figured women because it's glamorizing them, because your waist should be smaller than 35 [inches]. That's what Dr. Oz said, and I'm sticking to it," she said. "No, I don't think it's healthy. Her face is beautiful. Beautiful. But I don't think it's healthy in the long run."
Never mind the fact that Tiegs—who graced more than one Sports Illustrated cover during her career—didn't seem to have checked Graham's IMG Models page to see that her stats listed a 30-inch waist, far below her Dr. Oz-dictated cutoff for "healthy." She followed up her comments the next day on Twitter to "clarify" her stance:
Tiegs was quickly slammed with criticism for her original remarks as well as her clarification.
Graham—who often tags her Instagram posts with the hashtag #beautybeyondsize—is a "body activist" as well as a model. Her website is marked with the motto "Stand up for curves. Confidence is sexy" and says she "is regularly invited to speak at numerous high schools and girls' groups about body image, self-acceptance and female empowerment." In the spring of last year, Graham gave a TEDx talk titled "Plus-size? More Like My Size," in which she discussed her career as a curvy model.