Former Teacher Forced to Resign Over Facebook Post About Mask Mandates, Lawsuit Claims
A former South Carolina teacher is accusing the school district she used to work for of forcing her to resign after she posted a video on Facebook that included content about mask mandates, according to court documents filed this week.
The lawsuit filed Tuesday against the Berkeley County School District and the district's former superintendent alleged Holly Chapman, identified as a "certified teacher with an active certification in good standing," was "told she could either immediately resign or be terminated" in February after posting the video on her personal account about two months earlier.
"In this case, Berkeley County School District terminated a teacher and sought to revoke her teaching license by labeling her comments as immoral, because she shared her opinions on governmental rules for mask wearing during the COVID pandemic," the lawsuit alleged.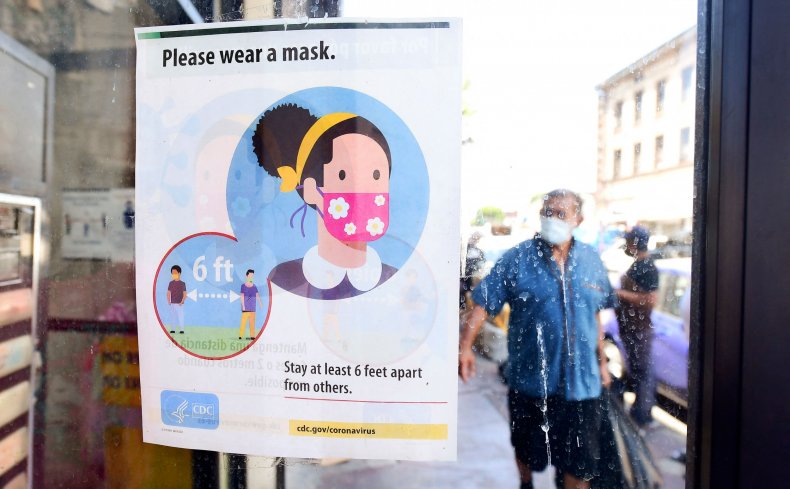 Chapman was initially hired by the district in mid-2015 and "received no disciplinary actions" while working there before the December 2020 video she posted resurfaced about a month later, the court documents said. In the video, Chapman "expressed her political frustrations with perceived government intrusion with respect to COVID mask mandates and protocols," according to the lawsuit.
The video was posted to Chapman's personal Facebook page, which was operated under a pseudonym and was not "friends" with any of her students, her attorneys said. But a student "apparently gained access" to the video in January and reposted part of it on Snapchat, which Chapman's lawsuit said she found out about in mid-February.
Days after learning that the video had spread onto Snapchat, Chapman was asked questions about it by a human resources official with the school and "was asked to prepare a statement," the first version of which "was deemed insufficient."
The district's human resources official "directed her to write a follow-up statement explicitly describing the content of her speech," and after Chapman did so, she was told to either resign or be fired a couple of days later, the lawsuit alleged. Chapman "was not given a reasonable amount of time to weigh her options, or seek counsel," the allegations continued.
The lawsuit also alleged that in the months after leaving the Berkeley County School District, Chapman was passed over for employment at the Charleston County School District (CCSD) because of "concerns in her file."
"Internal emails from CCSD dated April 30, 2021, and May 4, 2021 indicated that Plaintiff would have received the position she was seeking at CCSD but for the reference from the Defendant District, related to Plaintiff's political speech," the lawsuit alleged.
The district Chapman originally worked for also allegedly pursued filing a complaint against her with the state's Board of Education, though the Board in late June "declined to prosecute any charges against Plaintiff's license because her speech outside of work on a matter of public concern was protected by the First Amendment."
The lawsuit calls for Chapman to receive $187,000 for her "loss of public service loan forgiveness," as well as damages for "lost wages, lost earning capacity, lost benefits, reputational loss, and emotional pain and suffering," and costs associated with the lawsuit.
The Berkeley County School District told Newsweek it had not been served with the lawsuit as of Thursday afternoon and declined to comment on Chapman's allegations, citing the pending nature of the litigation.
Updated 12/02/2021, 4:24 p.m. ET: This story has been updated with a comment from the Berkeley County School District.