Former Theranos CEO Holmes Yet to Enact Defense She Was Manipulated by Former Lover
In Elizabeth Holmes' third day of testimony, the former billionaire maintained her denial of concealing the problems with her company's blood tests, while acknowledging some mistakes she made as CEO of Theranos.
Holmes, 37, is charged with misleading investors and customers about the effectiveness of the company's blood tests to detect a wide variety of diseases and could face a sentence of up to 20 years in prison if convicted, according to The Associated Press.
She repeated in her testimony she always believed Theranos would perfect its technology, designed to detect hundreds of diseases and medical issues with tests of just a few drops of blood.
However, one area of her defense that hasn't been discussed in court is an idea her lawyers suggested could be a key.
According to court documents from before the trial began in September, Holmes' lawyers claimed she was manipulated into her unethical behavior by her former romantic partner and former Theranos chief operating officer, Sunny Balwani.
Balwani, who faces a separate fraud trial scheduled for 2022, allegedly subjected Holmes to "intimate partner abuse," although he has denied the allegations through his attorney.
Holmes said Balwani was also responsible for Theranos' financial projections that have been an important part of the trial, which forecasted Theranos generating revenues of $140 million and $990 million in 2014 and 2015, respectively. The company never came close to reaching the projections, which Holmes testified was for a variety of reasons.
She said the 2015 projection was that large due to an agreement to expand their testing program into 3,000 Walgreens stores. The deal never came to fruition because the retailer eventually backed out.
For more reporting from The Associated Press, see below.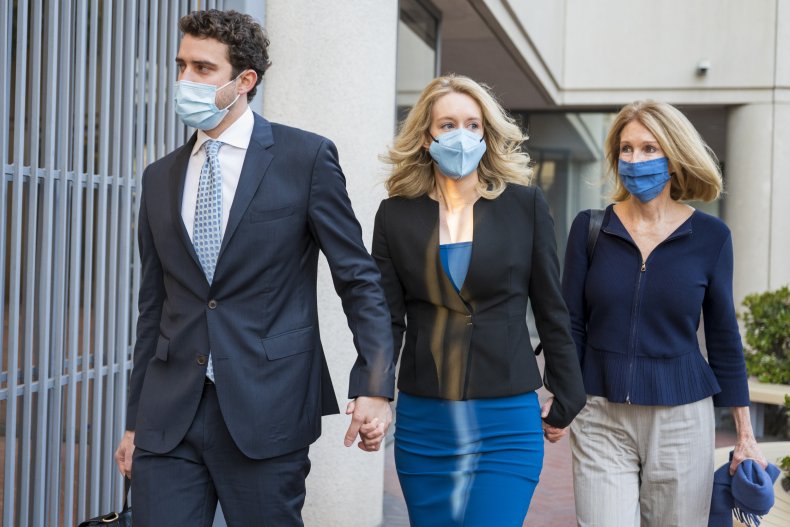 Holmes acknowledged making some mistakes as CEO of Theranos, a company she founded in 2003 when she was just 19. But she repeatedly emphasized that she made most of her decisions with the help of other executives and a respected board that included former cabinet members in various presidential administrations.
"It is never smooth," Holmes testified. "There's always challenges."
Theranos eventually collapsed after a series of explosive articles in The Wall Street Journal and an audit by federal regulators exposed serious and potentially dangerous flaws in the company's blood tests. The scandal wiped out Holmes' fortune, which was estimated at $4.5 billion in 2014 when she was the subject of a glowing cover story in Fortune magazine.
Holmes addressed several prickly areas that government prosecutors highlighted while presenting their case during the first 10 weeks of the trial.
Balwani's role as an executive at Theranos came up Tuesday for the first time since Holmes took the stand late last week. At one point, Holmes indirectly criticized Balwani for a brusque 2013 email he sent scolding a former Theranos manager, Surekha Gangakhedkar, in the middle of the night. Gangakhedkar, who testified about expressing concerns about problems with Theranos' technology, eventually resigned, citing the stress she felt.
Holmes told the jury she regretted that episode with Gangahedkar. "This is the wrong way to treat people," she said.
Another moment of contrition came when she took responsibility for adding the logo of Pfizer, a major drug maker, to a report extolling the effectiveness of Theranos' technology. That decision came after an internal Pfizer report that Holmes said she never saw had expressed doubts about the reliability of Theranos' blood tests.
"I wish I had done it differently," Holmes said. Several investors have testified that seeing Pfizer's logo on the report helped persuade them to invest in Theranos.
Holmes, who raised nearly $1 billion after founding Theranos in 2003, is facing allegations of duping investors, patients and business partners while running the Palo Alto, California, company.