Former Top FBI Official Chuck Rosenberg Says Whitaker Testimony 'Disgraceful'
Former FBI chief of staff Chuck Rosenberg described acting Attorney General Matt Whitaker's behavior in testimony before the House judiciary committee as "disgraceful."
Rosenberg, who served as chief of staff under Director James Comey, said that "civility" and "dignity" was "sorely lacking" in Whitaker's testimony Friday.
At one point Whitaker refused to answer a question from Democratic Judicial Committee chairman Jerrold Nadler, because he claimed Nadler had run over his allotted five minutes for a question.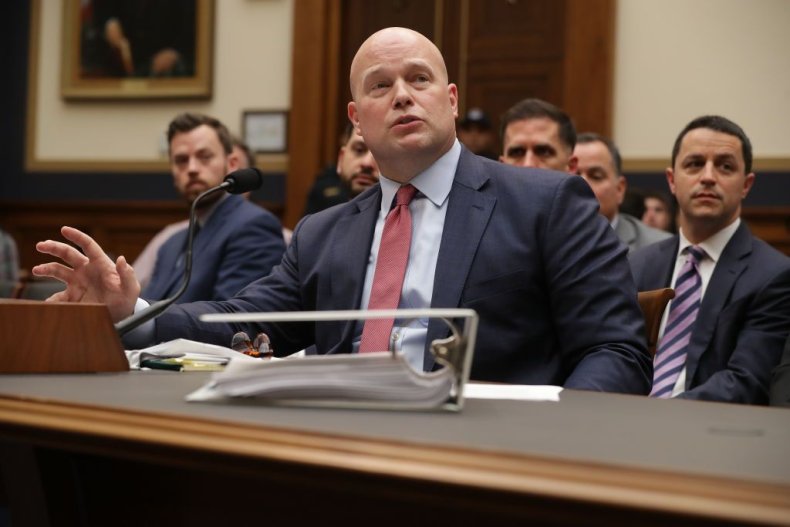 "I've testified many times in Congress," Rosenberg said in an interview on Friday night's All In.
"Sometimes the questions are good and thoughtful, sometimes they're compound and incomprehensible, but you have to answer every one with a degree of civility and dignity, and that was sorely lacking."
In an interview on the network earlier in the day, Rosenberg had criticized Whitaker for refusing in Friday's testimony to reject a description of Special Counsel Robert Mueller's probe into Russian interference as a "witch hunt."
"Why can't you say those things? The entire Department of Justice––in fact, much of the nation is watching you today. I don't know how somebody could be that cowardly," said Rosenberg. "I don't know how someone could dissemble that much. It really is distressing to me."
In his testimony, Whitaker said that he had not taken any action to interfere with the Mueller probe, but declined to provide details of conversations with the president.
"While I have specifically been saying that I'm not going to comment about my conversations with the president or his senior staff I have also been very clear that the president has not instructed me to do anything," said Whitaker.
Rosenberg said that there were limits to the executive privilege invoked by Whitaker when he declined to give details of the conversations.
'It is a real thing not a fake thing, but it doesn't apply to every conversation and the law recognises that there are compelling circumstances that occasionally overcome executive privilege," he remarked.
Whitaker was appointed to temporarily fill the position of attorney general by President Donald Trump in November, and prior to his appointment had penned op-eds critical of the Mueller probe.
Unlike his predecessor in the role, Jeff Sessions, he has refused to recuse himself from the Mueller probe — and defended the decision in comments to lawmakers Friday.
"It was my decision to make. I decided not to recuse."
Rosenberg also formerly served as a counselor to Mueller, when he served as FBI director, and resigned his position as acting head of the Drug Enforcement Agency in 2017 after claiming that Trump condoned police misconduct.