Former Treasury Secretary Says Even $5 Gas 'Worth Paying' to Stop Putin
Gas prices hit record highs this week after the U.S. announced a formal ban on all Russian energy imports, including oil, and while those numbers could continue to climb, some say it is worth it if higher prices would help Ukraine defend its sovereignty from Russia.
"I would not be surprised if we saw $5 gasoline at some point in this and that's going to be disruptive for many people, but if you think about the sacrifices being made by the people of Ukraine, if you think about our stake in stopping a tyrant who is trying to expand, that is a price that is very much worth paying," former Treasury Secretary Lawrence Summers told CNN on Wednesday.
After other economic sanctions seemed to do little to deter Russian President Vladimir Putin from continuing to attack Ukraine, President Joe Biden announced on Tuesday that his administration would ban all energy imports to target "the main artery" of Russia's economy.
While Russia is one of the largest oil exporters in the world, very little of its petroleum products and crude oil goes to the U.S. However, because oil is priced on global commodity markets, the loss of Russian oil has impacts on prices everywhere.
A day after the ban was imposed, the Kremlin accused the U.S. of declaring economic war on Russia—a claim the White House has disputed.
"I wouldn't call it an economic war," Deputy National Security Adviser Daleep Singh told CNN's John Berman. "This is our way of demonstrating resolve. "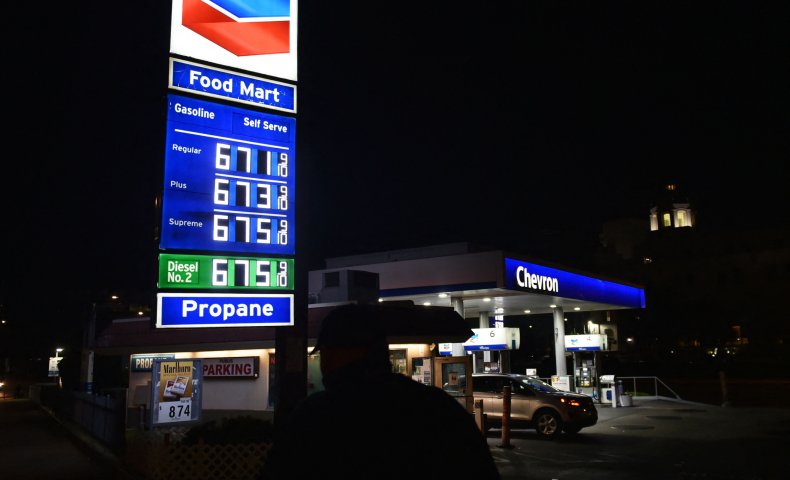 The Biden administration had initially been opposed to banning oil from Russia but the escalating situation in Ukraine left the U.S. with few options to fight the Kremlin.
Summers, who worked under the Obama administration, is not the only one who thinks higher gas prices in the U.S. are worth the price of ending the war in Ukraine.
A recent Quinnipiac poll also found that more than 70 percent of Americans say that they would support a ban on Russian oil, even if it leads to higher prices in the U.S.
Those views were held by both Republicans and Democrats, with 66 percent and 82 percent saying they would support the ban, respectively.
The survey also found that 56 percent of Americans wanted to see the U.S. act more aggressively towards Russia.
But while Americans seem eager to impose tougher sanctions on Russia, the rising gas prices coupled with already-high domestic costs may change some minds on the ban.
For some Americans, it would force them to make concessions on other things like food, entertainment or traveling.
"This year it's gonna cost [Americans] $150 to $200 to fill up their tanks, maybe they won't take that vacation that they normally take. It's gonna be ugly," Jay Young, CEO of King Operating, a private oil and gas firm, told Philadelphia's WPVI.