Former Trump Adviser John Bolton Won't Vote for Trump or Biden in November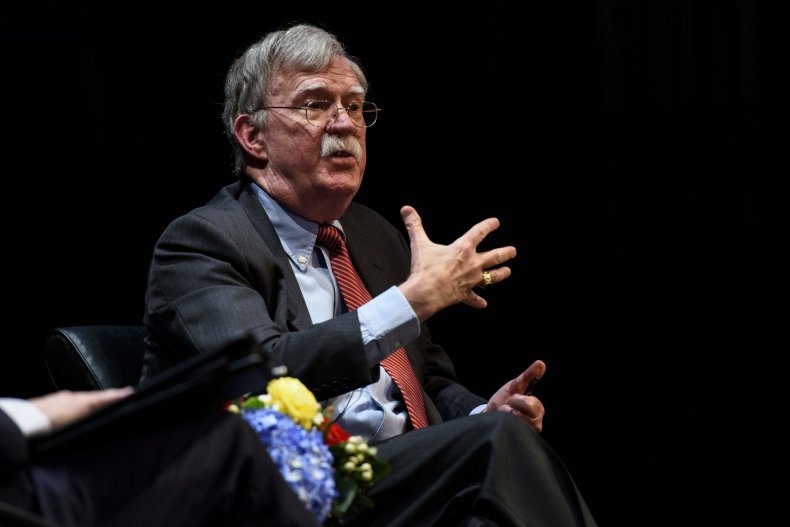 Former Trump national security adviser John Bolton won't be voting for his former boss in the fall. He also won't be voting for Donald Trump's Democratic rival Joe Biden, he told reporters Tuesday during an interview with the National Press Club.
"This will be the first time in my adult political career when I won't be voting for the Republican nominee for president," Bolton said, noting that he plans to write in the name of a yet-to-be determined conservative Republican when he casts his ballot.
"For the sake of the party we have to get past the Trump era," he said. "Under Trump, there are no rules except 'What benefits Donald Trump?'"
Bolton recently wrote a tell-all book, The Room Where It Happened, about his tenure in the Trump administration from 2018 to 2019. A former ambassador to the United Nations in the Bush administration, Trump had previously floated Bolton's name as a possible Secretary of State.
The White House didn't immediately respond to Newsweek's request for comment on Bolton's latest remarks about Trump.
But the president has tweeted often against him, calling Bolton a "wacko" and his book a "compilation of lies and made up stories, all intended to make me look bad. Many of the ridiculous statements he attributes to me were never made, pure fiction. Just trying to get even for firing him like the sick puppy he is!"
Bolton accused Trump of having no interest in learning foreign policy.
"I don't think he understands even the complexities of the U.S. government," he said. "What's worse is he shows no particular interest in learning."
"He sees things almost exclusively from the prism of what benefits him," he said.
Bolton said he worries that a second Trump term could set the United States into major foreign conflict.
"I don't think we can trust him with another four years," he said.
Bolton has faced backlash for his decision to turn around from the administration and write a book about his experience while Trump was still in office, and profiting off his new concerns about Trump's leadership. He said during his Press Club appearance that he wanted his writings to serve as a historical record.
"I felt that bringing it out when it came out was important to give the American people a chance to draw their own conclusions," he said. "They can read the book and it's up to them to decide."