Former Trump Campaign Chief Paul Manafort Worked With Russian-Intelligence-Linked Figure on Article, Mueller Investigation Finds
The Trump campaign's former chairman Paul Manafort ignored a judge's order not to attempt to influence the media and worked to ghostwrite an article with a man tied to Russian intelligence, special counsel Robert Mueller's office said Monday.
In court filings, Mueller's legal team said Manafort's co-writer "is currently based in Russia and assessed to have ties to a Russian intelligence service." The two were collaborating on the piece they intended to publish under another person's name.
As recently as last Thursday, the two were drafting the opinion piece in English. It dealt with Manafort's work in Ukraine, where he was a political consultant for Kremlin-allied former Ukrainian Prime Minister Viktor Yanukovych and his Party of Regions.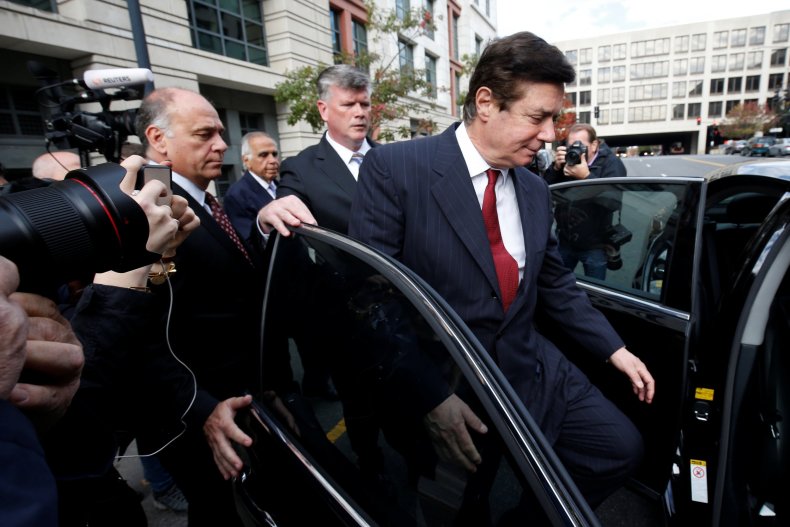 Mueller's team has the op-ed and says they will submit a sealed copy of it to the court so that it doesn't become public.
"The editorial clearly was undertaken to influence the public's opinion of defendant Manafort, or else there would be no reason to seek its publication," wrote Mueller attorney Andrew Weissmann in the court filing. On November 8, a court ordered Manafort not to make statements that could interfere in a fair trial.
Along with his business partner Rick Gates, Manafort faces 12 criminal charges, including allegations of "conspiracy to launder money" and "conspiracy against the United States" for an alleged decade-long tax avoidance scheme. The two men have pleaded not guilty.
Read more: Paul Manafort should only be released if he can prove how much he's worth, says Mueller
Manafort and Gates are currently under house arrest that limits them from traveling to different cities and bars them from leaving the country.
The two were among the first to be indicted as part of Mueller's probe into whether the Trump campaign assisted Russia's efforts to interfere in the 2016 election. Last week, President Donald Trump's former national security adviser Michael Flynn was arrested and pleaded guilty to a charge of lying to the FBI in connection with the probe.
On Monday, the special counsel's lawyers argued that Manafort's $11.5 million bail package, which would see him lose his GPS ankle bracelet, should be renegotiated because he sought to publish the article in direct violation of the court's orders. A bail agreement had been struck the same day Manafort's op-ed was discovered.
"Although the Court could potentially address some of the deficiencies, the defendant has now demonstrated that he is willing to violate a Court Order," Weissmann wrote, arguing that the bail agreement should be quashed.
A source who spoke with The New York Times identified Manafort's op-ed co-author as his protégé Konstantin V. Kilimnik, a Russian-Ukrainian citizen trained by the Russian army as a linguist.
This August, the Ukrainian prosecutor general opened an investigation into Kilimnik's alleged ties to Russian intelligence, according to documents obtained by Politico. He had told one of his previous employers that he had a background with Russian intelligence. Kilimnik was not charged at the conclusion of the investigation.