Roger Stone, former campaign adviser to President Donald Trump, said in a June interview that he hopes information from the right-wing conspiracy theory QAnon helps Trump win the 2020 presidential election.
QAnon, which began on the internet forum 4Chan, is a massive conspiracy theory that claim Democrats and members of an underground movement known as the Deep State are working to undermine Trump's presidency. QAnon is believed to have grown out of Pizzagate, a debunked conspiracy theory that alleged that former Democratic presidential candidate Hillary Clinton was involved in a ring of Satan-worshipping pedophiles based at a Washington, D.C. pizzeria.
In 2019, the Federal Bureau of Investigation classified QAnon as a domestic terror threat, alleging the "fringe political conspiracy theories" advocated by the group could inspire some to engage in criminal or violent activity.
Stone was interviewed by the In the Matrixxx hosted by QAnon proponent Jeffrey Pederson. Stone said he hoped Q, the anonymous source for alleged political information that QAnon takes its name from, actually existed.
"I do a lot of interviews and I meet with a lot of patriot groups and I always get the question, 'Mr. Stone, is Q real?'" Stone said. 'And I always say, 'I don't know, but let me tell you this: I certainly hope Q is real and there a number of indications that the information that is being disseminated has been of enormous value in this fight for freedom.'"
Stone also referred to individuals affiliated with QAnon as "great patriots," expressing the belief that "if we hang together, we can save this country."
Newsweek reached out to Stone for comment.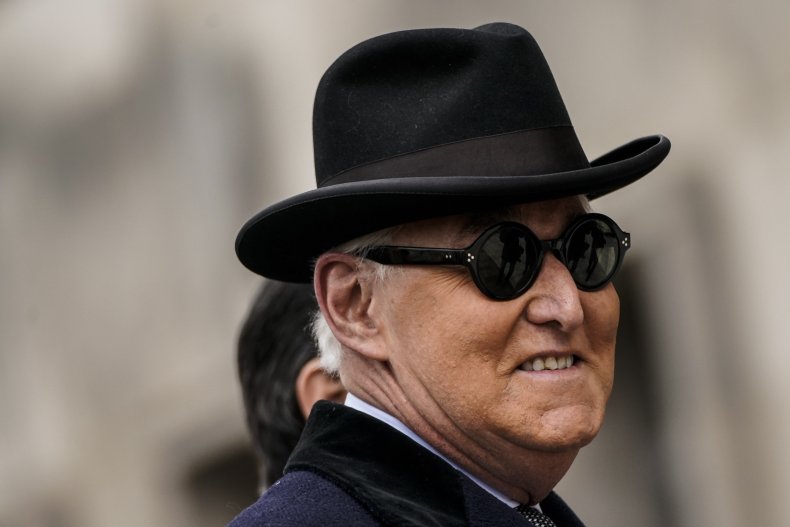 In 2019, Stone was found guilty of witness tampering, obstructing a congressional investigation and lying to the U.S. government in connection with alleged Russian meddling in the 2016 election. After prosecutors recommended a maximum sentence of ten years for Stone, Trump tweeted that Stone was in "a horrible and very unfair situation." The Department of Justice stepped in and said they would recommend a lighter sentence for Stone, causing four DOJ prosecutors to remove themselves from Stone's case.
After winning the nomination in May, Oregon Republican Senate nominee Jo Rae Perkins thanked members of the QAnon group for their support in a now-deleted video.
"I stand with President Trump," Perkins said in the May video. "I stand with Q and the team. Thank you, anons. Thank you, patriots. Together, we can save our republic."
Perkins' campaign attempted to walk back the comments in a prepared May statement. "I was not endorsing QAnon," the campaign wrote as Perkins, "but rather stating that I appreciate the fact that there is still free speech in this country that allows for voices—including whistleblowers from both sides of the aisle—that may, or may not, bring to light issues Americans need to be aware of." The following day, Perkins herself denied the statement, posting that she was "literally in tears" when she saw it.
Perkins had previously expressed her opinion on QAnon in a January interview, saying that Q was most likely a group of military intelligence agents that had been "watching what's been going on with our country for decades and they are partnered with President Trump to stop the corruption and to save our republic."