Former Trump Adviser Says Ex-President Picking a Fight With Ron DeSantis at Wrong Time
Some recent reports have made the claim that the relationship between former President Donald Trump and Florida Governor Ron DeSantis has become acrimonious.
The reports contend part of the hostility centers on the notion that Trump views the fellow Republican as a potential challenger for the GOP nomination for president in 2024, and one former adviser to the ex-president said it's too early for such political posturing.
"We're not in Republican primary season," Sam Nunberg, a former adviser to Trump, said in an article published Tuesday in The Hill. "This is a fight for mid-2023. It's not a fight to start having in 2022."
However, DeSantis' press secretary told Newsweek that reports of tension between the governor and former president is a "fabricated media narrative."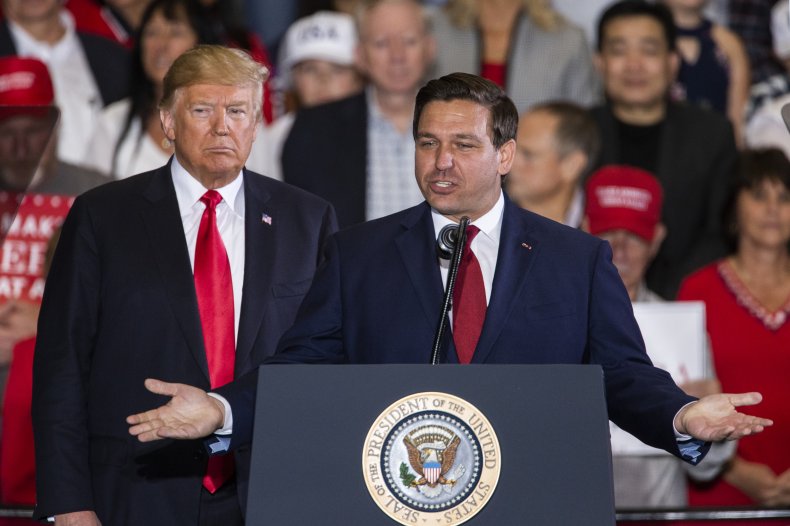 Nunberg worked for Trump multiple times after first being hired as a political consultant in 2011. He also served as a communications adviser for Trump in 2015 early in Trump's presidential campaign, though he later endorsed Senator Ted Cruz for president in 2016 and disparaged Trump's political strategy.
Trump later sued Nunberg for violating a confidentiality agreement over allegedly leaked information to a media outlet, and their dispute was settled out of court. In 2018, Nunberg testified before a federal grand jury during special prosecutor Robert Mueller's Russia investigation.
Nunberg's comments to The Hill came after a Sunday story in The New York Times which also described a strained relationship between Trump and DeSantis. Another article on Monday in Axios cited an anonymous source who claimed Trump had made multiple critical comments about the Florida governor.
Both articles contended the source of acrimony Trump feels toward DeSantis is because the latter has not publicly stated he would not seek the 2024 presidential nomination should Trump run again, as some other prominent Republicans have pledged.
Meanwhile, Trump also made a comment regarding COVID-19 vaccine booster shots that some construed as a political shot at DeSantis.
During an interview last week on the One America News Network, Trump criticized politicians who won't reveal whether or not they've received booster shots, calling them "gutless."
DeSantis previously did not directly say whether he received the booster shot when asked by Fox Business host Maria Bartiromo in December, instead saying he had "done whatever I did, the normal shot" when asked about the third dose. He has also long maintained that getting the vaccine is a personal decision.
"President Trump is the one clearly picking a fight here, and it's a fight that's too early, and unnecessary," Nunberg told The Hill.
DeSantis dismissed the notion that any rancor exists between him and the former president during an interview last week. While appearing on the podcast Ruthless, DeSantis said of such speculation, "I think this is what the media does."
His press secretary, Christina Pushaw, reiterated that message on Tuesday.
It's not a coincidence that this fabricated media narrative emerged during the worst week of Biden's presidency to date, as it became clear Biden would not be able to deliver on Build Back Better, enact sweeping legislation to federalize elections, or 'shut down the virus' as he had promised during his campaign," Pushaw told Newsweek.