Former Trump Adviser Steve Bannon Backs 'Anti-Woke' Vladimir Putin
Steve Bannon, former advisor to ex-President Donald Trump, said Americans should support "anti-woke" Russian President Vladimir Putin because of Putin's long history of anti-LGBTQ politics.
Bannon praised Putin several hours before the Russian leader launched an invasion of Ukraine. His commendation followed accolades for Putin from Trump and other conservatives.
"Putin ain't woke. He is anti-woke," Bannon said to private military contractor Erik Prince during the Wednesday broadcast of War Room, Bannon's show on Real America's Voice, a right-leaning media network.
"The Russian people still know which bathroom to use," Prince replied.
"They know how many, how many genders are there in Russia?" Bannon asked.
"Two," Prince answered.
"They don't have the flags, they don't have the Pride flags outside of their—" Bannon continued.
"They don't have boys swimming in girls' college swim meets," Prince responded.
"How savage. How medieval," Bannon added.
The exchange brought up various issues in the U.S. LGBTQ-rights movement that Republicans and conservatives have opposed.
Prince's mention of bathrooms refers to conservative opposition to policies allowing transgender people to use public facilities matching their gender identity. Conservatives claim such policies allow sexual predators to threaten girls and women. Trans activists say they have a right to use public facilities like everybody else and that conflating trans people with sexual predators encourages violence against trans people.
Prince's mention of college swim meets refers to Lia Thomas, a transgender swimmer with the University of Pennsylvania. People have disagreed on whether Thomas and other trans female athletes should be allowed to compete on women's teams after transitioning. Critics say that puberty and genetics give trans athletes unfair physical advantages over cisgender women.
Bannon's mention of flying Pride flags may refer to Trump's refusal to let any U.S. embassies fly rainbow Pride flags for June Pride month celebrations.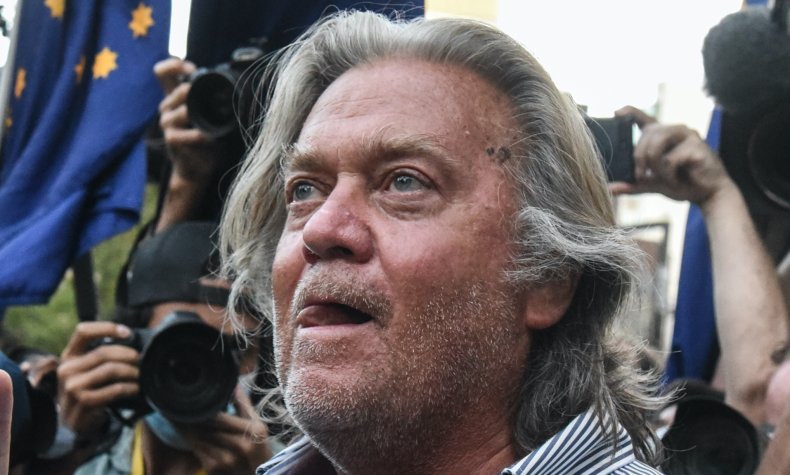 Bannon's praise of Putin echoes similar sentiments recently expressed by Trump and Trump's Secretary of State Mike Pompeo.
But Putin is renowned amongst global human-rights groups for his anti-LGBTQ policies.
In June 2013, Putin signed a law banning so-called "gay propaganda" in Russia. The law ostensibly seeks to "protect children" from any "propaganda of nontraditional sexual relationships," according to the law's text.
The law has mostly been used to silence LGBTQ activist organizations, events, websites and media, as well as to break up families and harass teachers, according to LGBTQ Nation. The law has been roundly condemned by the United Nations Committee on the Rights of the Child, the human-rights groups Amnesty International and Human Rights Watch and civil-rights activists around the world.
Putin has also largely ignored an ongoing and years-long crackdown against gay, bisexual and lesbian people living in the semi-autonomous Russian region of Chechnya.
The crackdown, which began in December 2016, involves police and military officials arresting suspected queer people under claims of drug dealing or terrorism. The officials then use electrocution, beatings, extreme cold, starvation, dehydration, isolation, forced nudity and homophobic insults to get arrestees to reveal more suspected homosexuals, according to the Russian LGBT Network. An estimated 33 people have died in the crackdown and hundreds have fled the region since it began.
Bannon co-founded the right-wing news site Breitbart and was chief executive officer of Trump's 2016 presidential campaign. He also served as White House chief strategist and senior counselor to the president from January 2017 until August 18, 2017, when Trump fired him.
In August 2020, Bannon was indicted by a federal grand jury, accused of conspiracy to commit mail fraud and money laundering connected to the "We Build the Wall" campaign, a $25 million GoFundMe crowdfunding, which claimed to be raising money to help Trump construct a border wall between the U.S. and Mexico.
Numerous LGBTQ activists and organizations considered Trump's presidency as the most anti-LGBTQ presidency of all time.
During his presidency, Trump banned transgender people from the military, repealed previous protections allowing trans students to use school bathrooms, refused to recognize same-sex couples' foreign-born children and spouses, wrote legal briefs supporting business owners' discrimination against LGBTQ people on the basis of religious beliefs and discontinued recognition of June as LGBTQ Pride month.
Trump's supporters called him the most pro-LGBTQ president of all time because he mentioned LGBTQ people during his 2016 acceptance speech at the Republican National Convention and because he appointed Richard Grenell, an out gay man, as the U.S. ambassador to Germany and director of U.S. national intelligence.