Former Trump Campaign Manager Corey Lewandowski Claims He Could Beat White House Chief of Staff John Kelly in Fight
Former Trump campaign manager Corey Lewandowski claimed that he'd beat former Marine Corps general and White House Chief of Staff John Kelly in a fight.
In comments during an on the street interview with celebrity news site TMZ, Lewandowski is quizzed about a New York Times report that he had been involved in a physical confrontation with Kelly earlier this year after Kelly accused him of profiting from ties to the administration.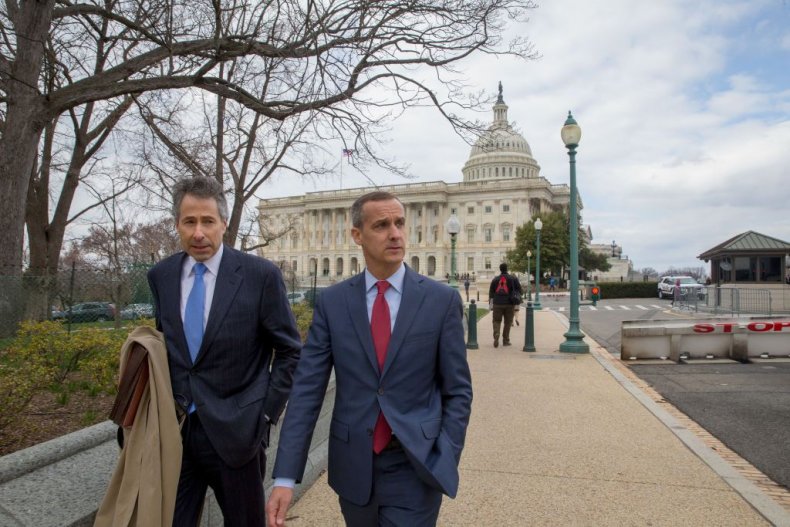 According to the report, Kelly grabbed Lewandowski by the collar and tried to push him against a wall, with Secret Service agents called to diffuse the situation.
In comments to TMZ, Lewandowski denied the confrontation ever took place as reported by the Times.
"Don't believe the hype. Do I look like a guy — come on," he said. "I have no idea what you're talking about my friend."
When pressed, Lewandowski said he'd emerge victorious in a confrontation with Kelly.
"I always bet on me," he said.
Lewandowski was speaking after the release of his book, Trump's Enemies—which he co-authored with former deputy campaign manager David Bossie—and alleges that scores of administration officials are working to stymie the president's agenda.
In an appearance on Fox News Sunday later, Lewandowski said that the Secret Service did not have to break up a fight between himself and Kelly.
"Well, the Secret Service didn't break anything up. John and I had a very candid discussion, as he probably has many times with the president," Lewandowski said.
When asked by host Chris Wallace if Kelly had laid his hands on him, he did not deny it.
He said that he and Kelly have "very different management styles."
"Look, I don't want to get into what John may or may not have done," he said. "But what I do think is he understands that my position is to support the president and the president's agenda all the time."
In the book, the pair claimed they were not able to walk to walk around the White House without a handler.
"Well, I respect John Kelly for his service to the country and for as long as the president wants to keep him as chief of staff that will be his prerogative, but to say that Dave and I – two people who have been unresolved in our support for the president – to have an escort, which almost nobody else has to have, I think is a little bit out of bounds," Lewandowski complained to Wallace.