Former Trump Official Believes Trump Will Lose in 2024, Floats 8 Other Candidates
Alyssa Farah, who served in various communication roles during Donald Trump's presidency, doesn't see him as a viable candidate for president in 2024 despite his ability to turn out voters.
Trump has been floating a potential return to the presidential campaign trail since leaving the White House, although he's unlikely to make any official announcement until after the 2022 midterms. As the frontrunner in polls of GOP voters and with an uncanny ability to raise money, signs point to Republicans backing Trump as the candidate if he chooses to run.
However, Farah doesn't think that's how Republicans could beat the Democrats in 2024. While Trump still commands a strong loyalty among his supporters, Farah posted on Twitter that she was "bullish he'll lose a general again."
Farah argued in an op-ed for RealClearPolitics that Republicans shouldn't fall in line with a Trump candidacy just because he's Trump and that he needs to "earn it." Just as the party didn't back Senator Mitt Romney in 2016 after his failed bid for the White House in 2012 or Senator John McCain in 2012 after his 2008 loss, Farah said Republicans shouldn't back Trump because "losing isn't earning it."
Supporters will be "very happy" with Trump's decision about the 2024 race, according to the former president, and he's said the only thing that would keep him from running would be if it ran contrary to a doctor's advice.
Despite having not officially announced his intention to run for office, Trump leads in polls as the preferred Republican candidate, often earning significantly more support than any other contender. However, some Republicans have raised concerns that the former president's constant rehashing of the 2020 presidential election could hurt Republican voter turnout.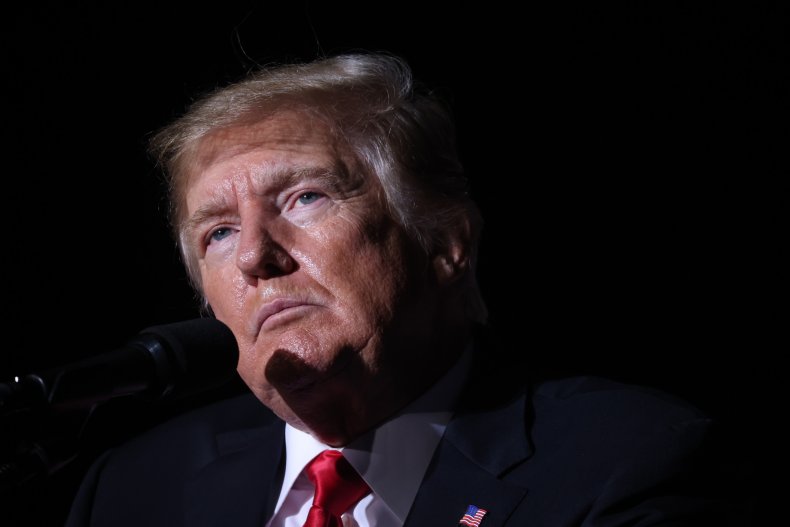 Instead of putting Trump on the Republican ticket in 2024, Farah advocated for the GOP to consider Senator Tim Scott, who she called the "face of the party's better angels." Farah also suggested Florida Governor Ron DeSantis or former Vice President Mike Pence.
DeSantis, a strong supporter of the former president, has said he's focused on securing another term in office as governor of Florida. But, polls indicate he could garner support from Republicans if Trump wasn't in the 2024 presidential race.
"DeSantis has much of the toughness of Trump, but a policy background from his time in the U.S. House of Representatives working with Democrats on bipartisan issues," Farah wrote in the op-ed.
Pence has remained loyal to the former president, often championing the work they did while in office, but he's also been on the receiving end of Trump's frustration. Trump has blamed Pence for President Joe Biden being in office since he didn't send the election results back to the states when Congress met to certify the election on January 6.
The former vice president's decision to oversee Congress' certification of the election and not insert himself further wasn't received well from Trump's base, either. Pence was booed at an event and polls offer mixed reviews of his appeal with voters. In some polls, Pence comes in second after Trump, but in others he receives very low support.
Farah acknowledged that Pence would have to "overcome a loud but small minority" of GOP voters who believe Trump's claim that the 2020 election was stolen. However, she said he has more governing experience than any other potential candidate and is seen as a "champion of the [former] president's policies, though with a softer tone."
Other "potential candidates," for the 2024 Republican nomination for president, according to Farah, are former United Nations Ambassador Nikki Haley, former Secretary of State Mike Pompeo, Maryland Governor Larry Hogan, Iowa Governor Kim Reynolds and South Dakota Governor Kristi Noem.