Former Trump Official Federico Klein Offered Plea Deal in Capitol Riot Case
Federico Klein, a former Donald Trump appointee, was offered a plea deal in his Capitol riot case. But as the current offer stands, his attorney isn't interested in accepting it.
Klein, who faces eight counts in connection with the Capitol riot, is charged with assaulting police officers during the January 6 attack. Court documents allege he donned Trump apparel on the day of the riot and physically assaulted police officers in the tunnel of the Capitol, at one point shoving a riot shield toward police officers trying to stop the mob from entering the building.
One of the hundreds of people who have been charged in connection with the insurrection, Klein was offered a plea deal late Tuesday evening, according to NBC Washington's Scott MacFarlane. The plea has not been accepted, and MacFarlane reported that Klein's attorney called it "not reasonable."
"We will be reasonable in our negotiations," the attorney told MacFarlane.
Newsweek reached out to Stanley Woodward, Klein's lawyer, who declined to comment.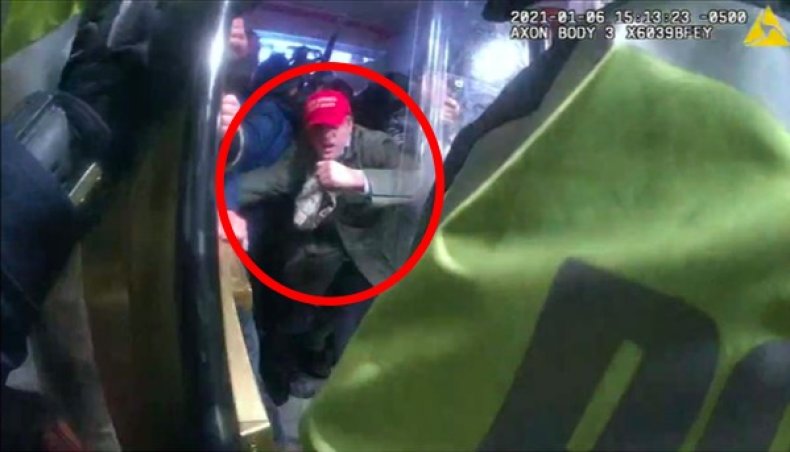 Klein worked at the State Department as a political appointee from 2017 until he resigned on January 19. He had a top-secret clearance and worked as a special assistant in the Bureau of Western Hemisphere Affairs and as a staff assistant with the transition team, according to NPR.
U.S. Magistrate Zia Faruqui took issue with Klein having been a current government appointee at the time of the siege and said it made him a danger to the community.
"There were enemies at the heart of American democracy, and a person who swore an oath switched sides," Faruqui said.
Along with using the riot shield against a police officer, court documents allege Klein placed it in between the doors to the Capitol to prevent officers from closing them. Klein continued to fight with the officers in an attempt to gain entry to the building until an officer deployed a chemical irritant spray that forced him to move to a new location, according to court documents.
Klein was also seen on footage appearing to help an officer who was dragged into the crowd get back into the Capitol building.
"Notably, Klein was captured on video shouting, 'We need fresh people, we need fresh people,' multiple times," prosecutors wrote in a court filing advocating for his pretrial detention. "Klein thus incited other members of the crowd to violence, encouraging them to battle with the police in the tunnel after others were unable to continue fighting."
Faruqui initially committed Klein to the custody of the attorney general pending his trial, but Klein was granted a pretrial release on April 12. Under the conditions of his release, Klein is required to remain away from the Capitol grounds and notify the court if he plans to leave Virginia or Washington, D.C. He must also avoid contact with anyone who participated in the riot.
MacFarlane reported his defense attorneys criticized the release conditions for being too strict, saying that he can't go for a jog or get gasoline without permission.